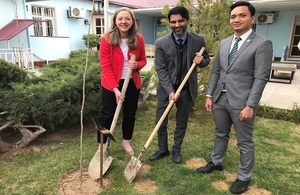 On 14 March 2022, Commonwealth Day, the Ambassadors of the UK, Pakistan and Malaysia in Ashgabat joined together to mark Her Majesty's Platinum Jubilee, and the 70th anniversary of her role as Head of the Commonwealth. The representatives planted a jubilee plane tree and unveiled a commemorative plaque in the garden of the UK Ambassador's residence.
People across the United Kingdom and British diplomatic missions overseas have been planting trees to support the Queen's Green Canopy, which is a unique tree planting initiative created to mark the 70 years of the reign of Her Majesty Queen Elizabeth II in 2022.
With a focus on planting sustainably, this green initiative seeks to create a legacy in honour of The Queen's leadership of the Nation, which will benefit future generations.