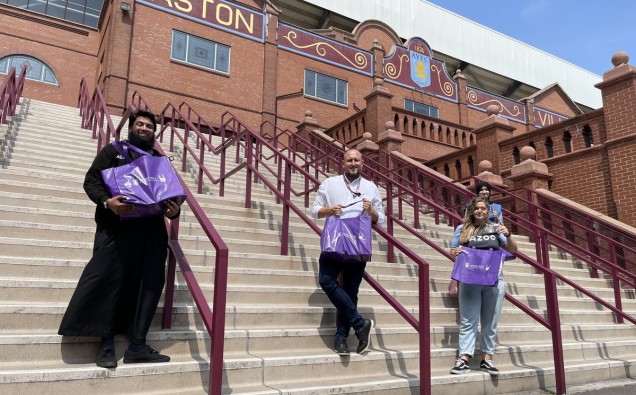 The Aston Villa Foundation supported Islamic Relief UK to distribute 500 food packs to vulnerable people including the homeless, asylum seekers, refugees and women who have suffered domestic abuse in Birmingham last Thursday (22nd) and Friday (23rd July).
The distribution at Aston Hall in Birmingham took place just days after Muslims celebrated the second of two Islamic festivals in the year, Eid-al-Adha (Festival of Sacrifice).
The packs included dry items such as sugar, tea, pasta, naan bread, soup, juice, salt and were distributed to communities most in need, which were identified by Birmingham-based food banks, shelters and refuges working alongside Islamic Relief UK and the Aston Villa Foundation.
Islamic Relief UK and Aston Villa Foundation are hopeful that the essentials will provide vulnerable community groups in Birmingham a more comfortable summer, especially following anxieties around rising COVID cases in the UK. The deliveries went to both Muslims and non-Muslims.
Ross Alexander, Foundation and Community Manager at Aston Villa Foundation said:
"Being a football club in the heart of Birmingham it's important we do our bit to support the community. Food poverty is a real issue in the city and it's imperative that we, alongside Islamic Relief UK, do our bit to provide food and make a difference to those who need it most.
"On a wider level, it's about creating partnerships with organisations like Islamic Relief UK so that we are able to provide long term, sustainable avenues of support city-wide."
Tufail Hussain, Director of Islamic Relief UK said:
"Aston Villa Foundation has played a huge role in our regional distributions this Eid, helping us identify vulnerable communities in the heart of Birmingham who we are able to help by supplying essential food. This year's Eid al-Adha distributions are the most ambitious we have ever done in the UK.
"Alongside partners, like Aston Villa, we are delivering food essentials to those who need it most during this difficult time. This wouldn't be possible without incredible support from our donors who choose to help people in both the UK and abroad."