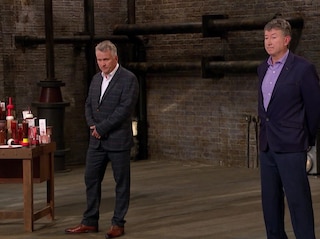 After failing to reach a final deal with three of the show's investors, a West Midlands company featured on Dragons' Den will do it alone.
On Thursday, Peter Neath and Ian Worton appeared on the BBC show with the Saucestream Squeezer, a gadget meant to reduce plastic waste.The two, who own Saucestream in Great Barr, first stated that they intended to collaborate with Peter Jones and Steven Bartlett, which enraged the other investors.
Despite the fact that Touker Suleyman and Sara Davies both dropped out, the businessmen were able to obtain their ideal pair, Deborah Meaden and Touker Suleyman. However, it has now been revealed that the agreement, which would have given the Dragons each an 11 percent stake in the company in exchange for £25,000, has fallen through. "We were on Dragons' Den 13 years ago but didn't quite get there investment-wise," Ian, who previously appeared on the programme alongside Peter to market their Grillstream product, said. Despite this, our Grillstream grills have continued to be a huge success, and they are currently the number two barbeque brand in the UK and Israel.
We also have a licence agreement with the Coleman brand in Canada, and we also sell globally. We were optimistic that our innovative Saucestream Squeezer product would be well received by both the Dragons and the general public. Essentially, our Squeezer solves the age-old difficulty of getting sauce out of glass bottles while also assisting customers in transitioning from single-use plastic sauce bottles to ecologically friendly glass sauce bottles.
Saucestream Squeezer was chosen as the winner of this year's Dragons' Den after a successful pitch to Peter Jones, Steven Bartlett and Deborah Meaden. It is a device which fits around a bottle and allows people to squeeze their chosen sauce out. Co-inventor Peter Neath said: "To walk out as winners this time was the best feeling ever!"
Photo credit: bbc