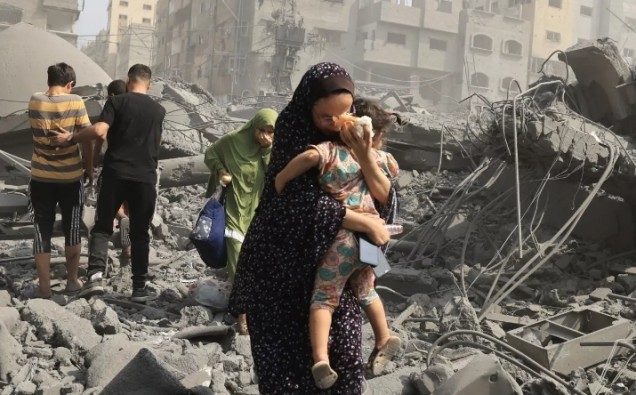 Action Against Hunger is deeply concerned about the multiple closures and restrictions on movement of Palestinian communities in the West Bank. The closures prevent Palestinian communities from accessing essential services such as markets to buy food, fodder for their animals, and medicines.
"Due to the closure of all entrances to our village, we are unable to meet our basic food needs, and many families have been subsisting on bread and tea alone for days," says Farid Burqan, head of the Bireen village council.
The closures are also preventing children from going to school and humanitarian workers, including Action Against Hunger staff, from carrying out their regular work and delivering humanitarian aid. Alternative ways of delivering aid are complex.
Action Against Hunger is also deeply concerned about the unprecedented escalation of Israeli settler violence that is forcing the Palestinian population of the West Bank – more than half of the displaced are children – from their homes. With all eyes on Gaza, this violence is going unnoticed.
Communities tell Action Against Hunger that settlers are destroying their water tanks and cutting off their water supplies in an attempt to make them leave their homes. Action Against Hunger reminds all parties that it is prohibited to attack, destroy, remove or render objects useless that are indispensable to the survival of the civilian population, including drinking water facilities and supplies.
In the last two weeks alone, the UN Office for the Coordination of Humanitarian Affairs (OCHA) has reported that 74 families, comprising 545 people, have been forcibly relocated from 13 communities in Area C of the West Bank due to escalating violence and intimidation by Israeli settlers.
The situation in the West Bank requires continued humanitarian support. Action Against Hunger is responding to the vital needs of the population. Our staff are also affected by restrictions on movement imposed by Israeli forces in the West Bank, which prevent our access to communities.
Protecting humanitarian personnel and their programs from all forms of violence is key to protecting civilians. All parties to conflict must strictly adhere to the principles of international humanitarian law, including the protection of civilians, the protection of civilian infrastructure and the safe access of humanitarian materials and goods.