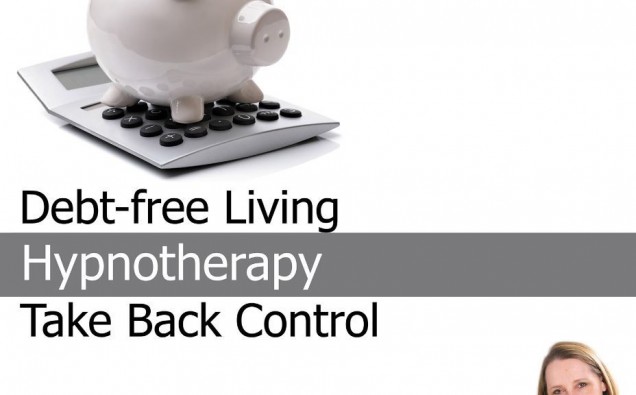 Spending and debt become a habit in your life. This recording will set you free with new ideas to take back control of your finances and action steps to get out of debt.
This hypnosis download will help you to let go of debt worries and create new habits of behaviour to break free of debt long-term. The messages will instil thinking which helps you to tackle the problems head-on. When you feel overloaded with debt issues it can be hard to see the way forward. These recordings will gently release the negative thinking from your subconscious mind replacing this with solutions to creatively get out of debt. By improving the way that you think, you will be surprised at how easy it is to get your money issues back on track. Three tracks covering various elements for a new debt recovery way of thinking.
Testimonial: "I have set up a debt repayment plan since listening to the hypnosis downloads. I was stuck in a rut on benefits but now my thoughts are clear about what has to be done."
The Debt-free Living hypnosis download is available from www.ailsafrank.com and is priced at £14.99.
Reader Offer 20% discount code: MONEY2020 to be used at the ailsafrank.com checkout page.
How does the 'Debt-free Living' hypnosis download work?
Your beliefs are stored in your subconscious mind, some of which are positive others are more negative. During this relaxation, your mind will let go of the limiting thinking which is stopping you from taking back control of your debt. Feel more relaxed as you release the fears and worries which have built up around money issues and help you to take practical steps to get on top of debt. The messages will help you bring about changes in your life to earn the most, reduce expenditure, pay back money owed and spend the least so you can adhere to a sensible budget.
Debt can build up over time from overspends, poor budgeting, irregular salary, retirement or from being on a low income. Debt can also come into your life from an unexpected event such as a divorce, redundancy, reduced income, an increase in expenses, illness, having a baby or from a failed business. This hypnosis recording to Get out of debt will give you the chance put whatever has happened behind you so you can instead find practical answers to get out of debt. Money is the root of our lives. With a strong money foundation in your mind, you will create a secure future.
The messages in this recording will filter into your subconscious mind whilst you relax on a bed or a sofa. There are three short tracks so it is easy for you to fit them into your busy schedule. You can listen to one after the other or alternate them on different days. If you fall asleep during the recordings you will still benefit from these recordings.