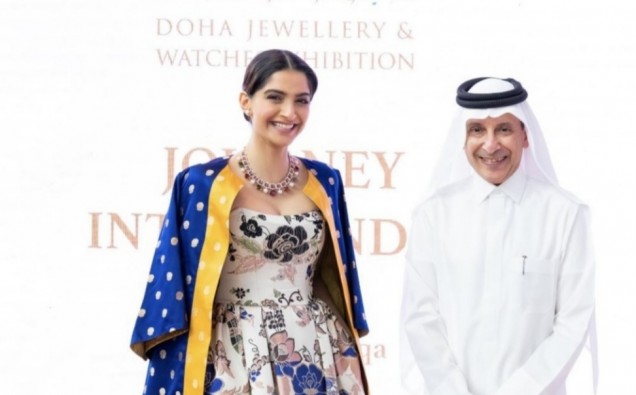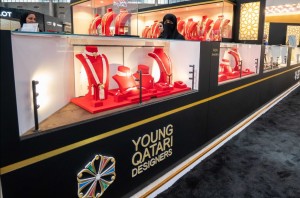 Doha city was full of tourists and visitors from different countries in the month of February to participate in Al Wasmi Garden Festival 2020 , Doha Jewellery and Watches Exhibition 2020
Al Wasmi Garden festival 2020 was held at Katara Hills . Event was launched by Katara – Cultural Village Foundation General Manager Dr Khalid bin Ibrahim Al-Sulaiti in the presence of Qatar Airways Group chief executive and QNTC Secretary-General HE Akbar Al-Baker, HE the Minister of Municipality and Environment Abdullah bin Abdulaziz bin Turki al-Subaie, Ooredoo Group CEO Sheikh Saud bin Nasser al-Thani and ambassadors. It was a 5 day event which showcased  gardens inspired by different countries of the World. 5 countries like Qatar, France, India, Britain and Japan displayed their designs at the festival like Indian garden gate design was inspired by the historical landmark  Taj Mahal , English Garden gate  was inspired by Buckingham Palace Entrance etc. The main aim to keep this event was to raise the awareness about the flowers, plants and technology used in cultivation among the people.
There were many activities organized for the visitors like floral art , craft workshop, stone painting, flower arrangements, educational activities, special shows , stage performance like "Alice In The English Rose Garden" "Petter Rabbit" "Beauty & Beast" "Jungle Book" "Dina's Magic Garden Show " was held for the kids. Over 65,000 rose plants, 1,50,000 packets of basil plants also known as Al Mashmoom,  25,000 seeds of different flower plants and trees were distributed to the visitors. Different competitions were held to promote artists and talents. Day time colorful firework were also organized.  
On the occasion HE Al Baker said : " We are delighted to support the Al Wasmi Garden Festival. It is a fantastic new initiative for Qatar that will delight residents and visitors alike and is a great addition to our country's excellent calendar of events. I hope visitors to the festival will especially enjoy the French Garden by Qatar Airways inspired by the Palace Gardens of France."  Katara Cultural Village Foundation GM Dr. Khalid Bin Ibrahim Al- Sulaiti expressed his gratitude to all the sponsors. The event successfully ended with the colorful blooming memories. 
Another event  was DJWE. The 17th Doha Jewellery & Watches Exhibition was held at Doha Exhibition & Convention Centre (DECC) by Qatar National Tourism Council (QNTC). Around 127 exhibitors participated from 14 countries , they showcased more than 500 well known unique brands.
The event was inaugurated by DJWE Brand Ambassador Sonam Kapoor who is a Bollywood Actress. She was the face of QNTC's promotional campaign titled "Journey Into Wonder" aired in 16 regional & international markets.  After the inauguration she visited each pavilion , met the exhibitors & appreciated their work. She was impressed by the jewellery design which was showcased in the event. Visitors got the opportunity to see the homegrown jewellery companies  and  the International brands like Rolex & Tudor displays their iconic designs , Italian brand Lenore presented their collection of necklaces, bracelets at Jawahar pavilion etc. There were many interactive activities kept for visitors like seminars on jewellery & gems , free valuation by expert gemologists, Qatar Watch Club conducted educational workshops for the public. De Beers Group Institute of Diamonds in collaboration with UNI hosted a daily Diamond workshop with expert Rachel Sahar.
DJWE is a platform where the young Qatari designers make the initiative to showcase their talent along with the world's best known brands. This sparkling exhibition was opened for the lovers of luxury watches & jewellery. Visitors get to see the latest innovations and trends launched in the industry at one roof.
HE Secretary General of QNTC & group chief executive of Qatar Airways Akbar Al Baker said, "This edition of DJWE boasted the largest number of exhibitors to date, representing a record number of countries. Such numbers demonstrate the influence of this prestigious event for both industry and consumers. "With more exhibition space than ever before to accommodate a diverse and growing array of brands, DJWE attracts the biggest names in jewellery and watchmaking. As we conclude yet another successful event in 2020, we are already looking ahead to our eighteenth edition next year to ensure that the event continues to grow each year."
He concluded his statement :- "Qatar tourism sector is witnessing rapid growth with the development of new tourism products and experience."
The exhibition successfully ended with over 32,000 visitors who had visited this event.  
By : Rida Khan ( Aviation Author)
( Instagram A/c : aviationauthor.ridakhan )