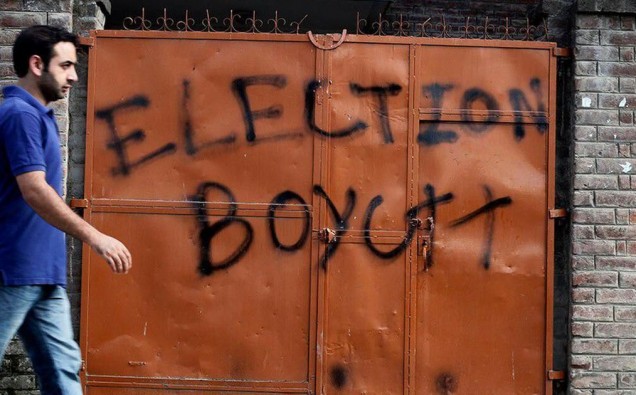 Violent attacks have disturbed the running of the Indian Elections in the turbulent region of Kashmir. The territory, which is the only Muslim majority state in the country, has been subjected to terrorist attacks and boycotting voters, which have left many polling stations deserted.    
According to Kashmiri sources, alleged militants threw grenades at two polling stations in The Pulwama district of Jammu and Kashmir during the 3rd phase of voting during the national elections. One of the explosions was set off inside Rahmoo Village Middle school where voting booths were being located. Protesters also lobbied pebbles and stones at security personnel, hoping to call-off the voting. No one was killed or seriously hurt in either of these circumstances.  
However, Indian Police forces reacted to the violence with increased aggression. The Police Department fired pellets at the lobbyists; many members of the public were injured as a result. In previous weeks, police also arrested dozens of people in South Kashmir following the calls of Separatist movement leaders for the polls to be boycotted. Leading up the opening of polling booths, India also deployed hundreds of its soldiers to Kashmir in an effort to safeguard the voting process.  
The chairman of a separatist organisation, Syed Ali Geelani, said in a statement that the elections were a "vast military exercise" and that the Indian government had executed "ruthless killings" in Kashmir. 
Kashmir has been subject to much unrest since India and Pakistan's independence from British rule. Militant strikes and gun violence are typical in this much-disputed region, and the locality's inhabitants have come into conflict with India's Hindu majority. Voting in this area also has a history of being contentious and leading to heavy political dispute.  
In this year's elections, there have been findings of empty polling booths, missing polling agents, and petrified polling staff that have been left to defend themselves. Out of the region, the districts of Pulwama and Shopain have presented the lowest turn-out, with only 3% of citizens casting votes during the final phase of the elections. This is in comparison to turn-outs of over 60% in other parts of the country.  
Shailendra Kumar, Chief Electoral Officer said the twin districts documented a voter turn-out of 2.81%, with almost half of 695 polling booths seeing no voting at all during the election period. Despite this, independent sources argue that the actual turn-out is far fewer than the officially stated 2.81 per cent. 
Manisha Bhanot