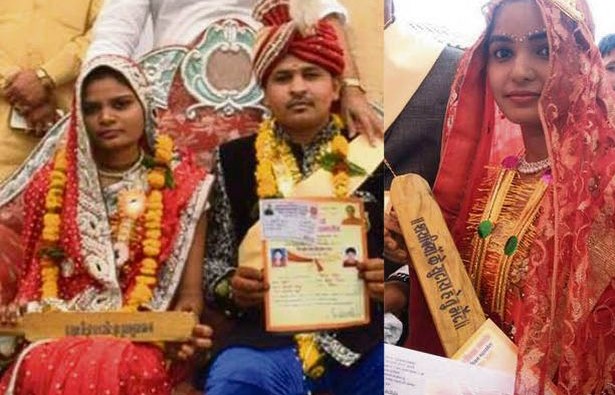 The leading Indian politician hopes to draw attention to domestic violence.
An Indian state is now handing out hundreds of wooden bats to new brides to act as a defence against abusive husbands.
Gopal Bargava, a minister in the state of Madhya Pradesh, handed out the traditional wooden laundry paddles to around 700 brides in a mass wedding celebration.
"If your husband or any other member of family comes home drunk, treat him with it," he said, addressing brides-to-be at a mass-marriage ceremony he hosted in his hometown of Garhakota.
The foot-long paddle, traditionally used to get dirt out of clothes, has an inscribed message which reads "For beating drunkards" and "Police won't intervene".
The politician urged the fact that there needed to be more awareness around the domestic abuse that rural women receive from their alcoholic husbands.
He said: "Women say whenever their husbands get drunk they become violent. Their savings are taken away and splurged on liquor.
"There is no intent to provoke women or instigate them to violence but the bat is to prevent violence."
The governor explained that he implemented the idea after a woman asked him whether she should beat her husband with a bat to stop him drinking.
Many Indian states have urged for the reduction of alcohol in recent years by restricting the availability of the intoxicating drink, in efforts to reduce alcohol related violence.
Liquor is one of the biggest sources of revenue but some states have banned or restricted its sale.
The Supreme Court has banned liquor vends within 500 metres of national and state highways to prevent drink driving. Several states have renamed roads to circumvent the top court order that aims to make India's notoriously accident prone roads safe.
With drinking becoming an increasingly large problem in India, a group of feminist vigilantes called the Gulabi Gangs, who wear pink saris and carry wooden sticks, have started a campaign to stop vendors selling alcohol and to shut down illegal moonshine operations.