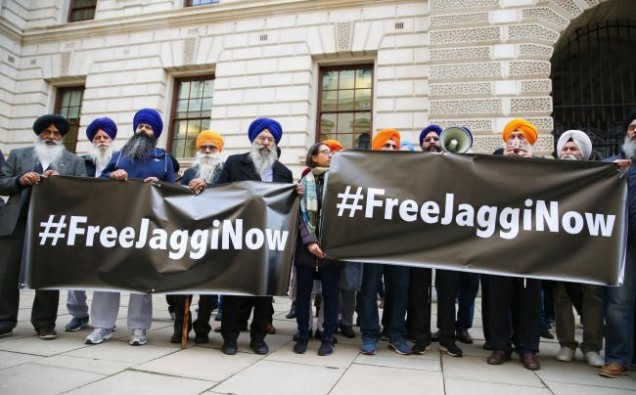 Today marks 600 days in an Indian jail of Jagtar Singh Johal, the 32-year old Scot from Dumbarton who has been tortured and threatened to be burnt alive by police and is being detained without a proper trial.
On Monday the Foreign Affairs Select Committee released its report Building Bridges: Reawakening UK-India ties that disappointingly failed to acknowledge the high profile case of the British national thathas been taken up by over 250 MPs on all sides following lobbying by constituents.
The family are in despair as the Foreign and Commonwealth Office (FCO) are failing to apply any political or diplomatic pressure to bring an end to the continuous delays in getting a trial or presenting evidence after such a long time to justify Jagtar's continued detention.
This is a far cry from Rory Stewart's promise in Parliament in November 2017of "extreme action" against India upon learning of third-degree torture of Jagtar. The Indian authorities were furious and are understood to have issued a démarche that resulted in Rory Stewart being dropped as a Foreign Minister.
Earlier this month and following political pressure from the ruling right-wing political party the Supreme Court agreed to transfer Jagtar from Punjab to maximum security Tihar jail in Delhi.  The judge gave Jagtar's defence team only 30 seconds to make their case and he is now 250 miles away from his wife and legal team.  The FCO has raised no objections and failing in its duty of care to a vulnerable British citizen.
The FCO has admitted at the highest level Jagtar could be detained in an Indian prison for several years and privately informed his family and his MP, Martin Docherty-Hughes that he will not get a fair trial.
Jeremy Hunt, the Foreign Secretary had a meeting with Jagtar's family, including his wife who came to meet him from India and his MP exactly 3 months ago and promised to increase pressure.
However, Dominic Asquith, the British High Commissioner in Delhi who was in the UK this month refused to meet the family. This comes after the family complained to the Information Commissioner about a serious data breach by the Andrew Ayre, the British Deputy High Commissioner that the FCO are now having to investigate and a complaint against the lead caseworker .
The family are frustrated with the lack of diplomatic support and absence of political leadership or a willingness to act as the present and former Foreign Secretary are pre-occupied with battling it out for the Conservative Party leadership and Mark Field, the Minister responsible for relations with India has been suspended.
Bhai Amrik Singh, the Chair of the Sikh Federation (UK) said:
"Jagtar's family are shocked and upset with the actions of the British authorities that suggest they have abandoned him in an Indian jail and left him to the mercies of the slow and corrupt Indian judicial system."
"Jeremy Hunt had offered the family some hope 3 months ago, but today the Foreign Office lacks the diplomatic nous andpolitical leadership to defend a British national in India that is always willing to use trade to force Britain to turn a blind eye to human rights violations."
"The next Prime Minister will be familiar with Jagtar's case and have an opportunity to demonstrate early on that Britain will take a firm stand to protect its citizens and take steps to secure Jagtar's release and return to Scotland."