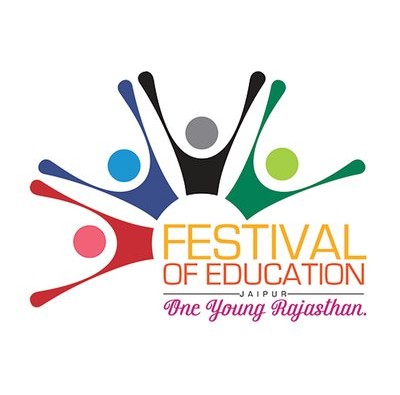 Baroness Usha Prashar (British Council), Dame Asha Khemka,Professor Sir Michael Wilshaw (St Mary's University) & Lord Baron Patel of Bradford  join Innovators, Students & Teachers to Spotlight India's Leadership Position as a New World intellectual Capital and Rajasthan as an Knowledge Hub
Thought-Leadership Panel Discussions with Change-Makers in India and Internationally from a broad range of sectors, from Education to Entertainment
The worlds largest k-12 chain of schools, GEMS Education and the Government of Rajasthan, India have joined forces to host Festival of Education, devised to celebrate the future of education, facilitate knowledge exchange and explore a new world of possibilities for Education in Rajasthan and the "New India", taking place at the Jaipur Exhibition & Convention Centre between the 5th and 6th of August 2017.
The festival will be the first in India to convene over 10,000 global innovators, academicians, change-makers, vice chancellors, educationalists, policy makers and more under one roof to give shape to the future of education through discourse, discussion and debate.
The partnership between GEMS Education and the Government of Rajasthan began in 2016 when a Memorandum of Understanding was signed to form the first of its kind Public-Private-Partnership in the education sector in India. GEMS Education is also poised to become the world's largest chain of budget schools and a key player within the budget school segment within India and other parts of the world.
His Highness Sheikh Nahayan Mabarak Al Nahayan, Minister of Culture and Knowledge Development, UAE will be the Guest of Honour and will deliver the Keynote Address. Speakers from the UK include
Baroness Usha Prashar (Deputy Chair of the British Council, Chair of the U.K. /India Year of Culture Board of Patrons)
The Lord Patel of Bradford OBE.
Professor Sir Michael Wilshaw (St Mary's University)
Geoffrey Fowler, Principal and CEO, London Design & Engineering UTC, London
Dame Asha Khemka DBE, Principal and Chief Executive, West Nottinghamshire College Group
Other high profile participants include:
Political:
Honourable Vasundhara Raje, Chief Minister, Government of Rajasthan
Hon'ble Union Minister of Human Resource Development, India, Prakash Javadekar
Educationalists:
Amreesh Chandra, Group President, GEMS Education India
Maria Mathai, Director, MM Advisory Services and Former Director of Canadian Education Centre, India
Jennifer Star, Founding Director, Tara.Ed and Manager, Professional Learning, ACER India
Timothy Difato, Associate Director of Business Development, Digital Worlds Institute, University of Florida
Geoffrey Fowler, Principal and CEO, London Design & Engineering UTC, London
Cultural / Personalities:
Bollywood stars:         Shabana Azmi, Sushmita Sen, Divya Datta – more to be announced!
Music stars:                 Shankar Mahadevan, Composer and Singer
Fashion:                      JJ Valaya, Designer
Cuisine:                       Manish Mehrotra, Chef, Karishma Sakhrani, Masterchef India 4 Finalist & Culinary Genius, Pooja Makhija, Nutritionist and Author
Holistic:           Bharat Thakur, Himalayan Yoga Guru, Chairman & Founder, Bharat Thakur Artistic Yoga
The festival will feature a range of unique events designed to entertain and inspire including:
An exhibition for the education industry
Inspirational speakers discussing the challenges and potential of the current Indian education system
Battle of the Bands Music Festival –the best of college and university bands from India and abroad will perform at the festival, with the winner to perform at the closing ceremony.
Tweetathon – The largest education conversation on Twitter over 24 hours, featuring 100 panellists.
An award ceremony in India to facilitate some of the finest works from teachers in India.