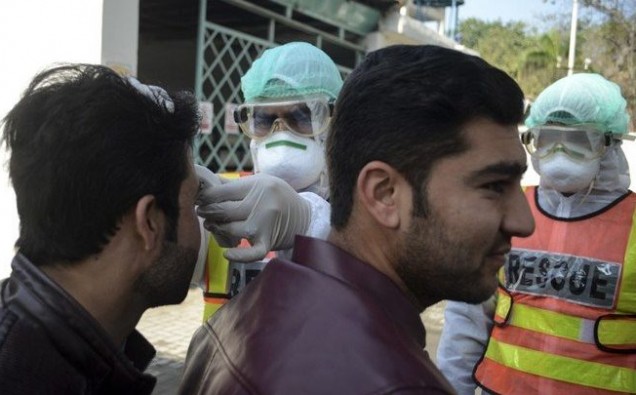 By Syed Tauqeer Zaidi
In an alarming development, 80 corona virus cases were confirmed in Khyber
Pakhtunkhwa in a single day which has set the alarm bells ringing in the whole province.
The cases were contrived by Khyber Pakhtunkhwa Health Minister Taimur Saleem
Jhagra who said on Twitter that 15 out of 19 pilgrims who arrived in Khyber
Pakhtunkhwa from Taftan have tested positive for the virus.
The Taimur Saleem Jhagra said the corona virus patients are being well looked after in
quarantine in an isolated facility in District Dera Ismail Khan.
These affected patients were initially kept in quarantine at Taftan for 14 days after which
they were handed over to the Khyber Pakhtunkhwa government for further quarantine. At
least 19 patients are in quarantine in Dera Ismail Khan now.
Sindh has also reported 413 confirmed cases. Now the total number of confirmed infections in the country stands at 1,179.
Earlier, on Sunday, Punjab reported 323 case, while 25 cases were also reported
from Islamabad.
Overall in the world, over 6,500 people have died and more than 170,000 infected by the
deadly disease as it spreads rapidly to new territories. So far, 158 countries have been
affected from the deadly disease.
Directions about Friday prayers
As further precautionary measures, the Auqaf Department of Khyber Pakhtunkhwa
issued directives according to which the Friday prayers would be offered in two shifts.
The authorities have advised that the congregation take place in open-air rather than the
mosques' halls. It said the poor and children must be discouraged from coming to the
mosques and Sunnat and Nafl prayers be offered at home.
Meanwhile, according to reports emerging from Afghanistan, dozens of Afghan patients
held in isolation, including at least one confirmed to have the corona virus, escaped from
a quarantine facility in Afghanistan on Monday after breaking windows and attacking
hospital staff. Afghan authorities said the 38 people who escaped had all recently
returned from Iran.
All the parks under the Local Government Department of Khyber Pakhtunkhwa have
been closed owing to the threat of corona virus spread in the province. Pakistan has also
closed its borders with Iran and Afghanistan as part of precautionary measures.