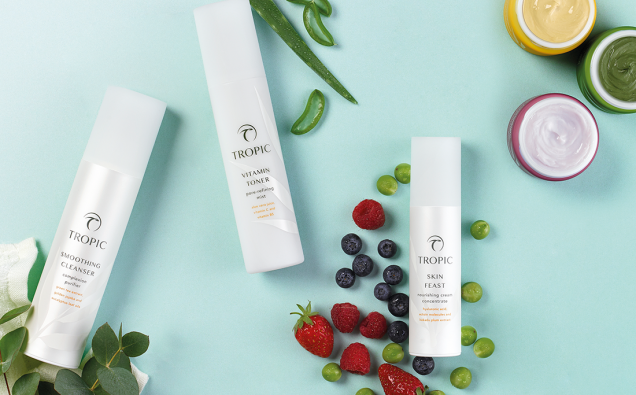 Tropic Skincare is founded by Susie Ma, who grew up in Cairns, Tropical North Queensland, Australia. The multi award-winning company was designed to provide freshly made, cruelty-free, natural products which are made in the UK and are created using the most innovative, effective ingredients that nature has to offer.  Plants such as fresh aloe vera and exotic fruit trees have been added into the products to provide the skin with the most nutritious and healthy glow. The plants are outsourced from the Amazon rainforest, Polynesia, Australia and many more exotic regions brimming with powerful botanical actives.   
Products at Tropic skincare range from moisturisers, cleansers, eye rejuvenating serums, brightening facemasks and various oils for skin brightening, anti-ageing, hydrating and skin resurfacing.  The award-winning products include the Super Greens Nutrient Boost Oil, Deep Hydration Soothing Cooling Mask, Smoothing Cleanser Complexion Purifier, Tamanu Healing Balm All-In-One Skin Saviour, Pure Lagoon Blemish Prevention Serum and much more.  
Tropic Skincare also produces makeup items such as concealer, blusher and powder as well as their award-winning Colour Palette. There are also haircare products available such as a hair oil, conditioning treatment, scalp massaging tool and much more. All products sold by Tropic are vegan and cruelty-free.  
You can even purchase gift sets on their website, which are perfect for birthdays, Christmas or if you just feel like treating your loved ones.  
The multi award-winning skincare company, Tropic, kindly sent us over a few products to try. The products sent were two new products, the Glow Berry Brightening Serum and the Rainforest Drew Hydration Serum. The products are perfect for sensitive, dry skin and really illuminated the skin, providing a natural glow. The products are easy to use, and the bottles fit perfectly on your bathroom shelf.  
 If you are interested in purchasing any products from Tropic, then visit their website www.tropicskincare.com. You can even check out their Instagram account @tropicskincare for the latest product updates.