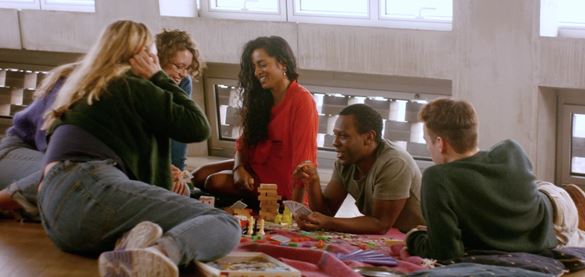 https://www.youtube.com/watch?v=XKIXf-1GiQ8
Singer-songwriter, producer and multi-instrumentalist Navina has been gaining industry recognition and momentum since releasing the first two singles '27 Hearts' and 'Circles' in the last year. The arist is currently a resident artist of The Roundhouse in London. Her most recent release, Pieces was premiered on BBC Radio London as part of a live session and Premier Radio's Unsigned. With each track inspired by a deep unique message NAVINA produces all her music as well as playing all the instruments on her records apart from drums and bass. Her debut release, '27 Hearts' was track of the month on BBC Radio London, and was pick of the uploader on BBC Introducing, Spotlight Artist BBC Asian Network, Track of the Week and was playlisted on AppleMusic playlists: Best of the Week and Songs of Summer. Her music video for Pieces was also widely covred, including music of the day at Loud Women and 27 Hearts' music video gained spotlighted on Brit Asian TV.
Her recently released single Circles was also Top Voted Track of BBC Radio Music 6 with Tom Robinson noting it as "and easily the best sounding record in this entire batch" and pick of the Uploader on BBC introducing, including playlists on AlexBirdRainMusic (Indie Coffeeshop, Folk Acoustic, Indie Studying, Summer 2019, Relax Indie Chill), Relax Indie, EARMILK and features from the likes of Its All Indie and The Music Elk.
She was nominated as Best Unsigned Female in Best of British Unsigned Music Awards and named as BBC Radio 1 DJ, Yasser's artists to watch, and has done numerous live sessions on BBC Radio London, BBC Introducing and BBC Asian Network. Having moved to London a year ago, she has been plaing Sofar Souds, regularly playing at The Roundhouse including supporting Jorge Drexler and playing at the venues Songwriter Circles (Riva Taylor and Jeff Cohen hosted).
'Pieces' sees the songstress jumping back on the piano to bring you uplifting tunes inspired by baroque melodies and middle 8s that spreads the message that in life's big jigsaw, progress doesn't come instantly, it comes in pieces. To compliment the success of this feel good tune, NAVINA releases an equally as feel good visual, featuring the artist amongst friends in a lighthearted, playful environment. It echoes the epitome and essence of the track and shows the joy of the simpler things in life, such as playing games and just having a good laugh with your nearest and dearest.
"I wrote pieces inspired by the concept of jigsaws and patience. I think more so than ever, we can try to display a life which has everything figured out on our online highlight reel. We try to find the answers in many different things when in reality, true contentment comes from looking above ourselves and the situations we find ourselves in, towards something greater. If we look back on where we've come from, we most often realise that we've come much farther than we need to go. Being content is merely just piecing together the good things that each day brings."