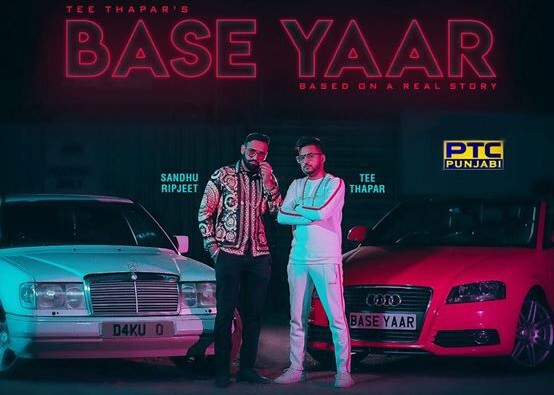 Hailing from 'The Beautiful City' of Chandigarh, Tee Thapar's musical journey took him across the globe between  
the two flag-bearing nations of Punjabi music – India and the UK.  
Tee Thapar has released 5 tracks till date which are listed as follows: 
'Akhiyaan De Rastey' in March 2019  
'Bin Tere' in Feb 2018    
'Bapu Di Chadai' in 2017    
'Koka' ft Juggy D in August 2017    
'Jaan Soneya' in Nov 2016   
Tee Thapar has created an exciting buzz amongst the Indian media and music fans alike, owing to his unique vocal and fresh personality. 
 As part of the new wave of young talented singers emerging from Punjab in recent times, Tee has been collaborating with Papa Joes Records Tee Thapar is ready to embrace a global platform with his new single called 'Base Yaar'.  
Base Yaar is written by well know writer Sandhu Ripjeet and the music has be created by Aman Muzik from Papa Joes Team 100.  
The video has been created by Base Yaar Productions (BYP) to a very high standard, which is Tee Thapar's new video production company 
 and will also be its debut release. The video and artwork has been edited by Burning Light Studio (Gurpreet Sains). Concept and  
screenplay is written by Tee Thapar and directed by Kohinoor Singh. 
After collaborating and perfecting his art with artists such as Lakhwinder Wadali, Debi Makhsoospuri & Juggy D,  
Tee is ready once again to introduce his talent to the world, and with a global platform such as Papa Joes Records and PTC Worldwide,  
Tee Thapar is set to become a common name across the world of Punjabi Music.  
'Base Yaar' releases on iTunes, PTC India, UK and Worldwide, Fastway Punjabi Hits, Aaho, Papa Joes Records YouTube 
 and all other leading outlets right now!