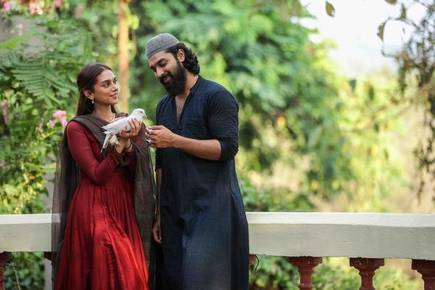 Sufiyum Sujatayum will globally premiere in Malayalam on 3rd July, directly on Amazon Prime Video
Upcoming film Sufiyum Sujatayum is set to release exclusively on Amazon Prime Video. The film, starring Aditi Rao Hydari and Jayasurya, will be the fourth of the seven Indian language films to premiere exclusively on the platform. The Malayalam film will be available to watch in over 200 countries and territories from 3rd July 2020.
Sufiyum Sujatayum will also see Dev Mohan make his big acting debut. Dev will be making his debut as a Sufi saint opposite actress Aditi Rao Hydari.
Speaking about his role in the film, he said that the hardest part for him was mastering the whirling, which Sufi practitioners often engage in. He has said, "The process wasn't easy. Initially, I used to feel dizzy and nauseated and had splitting headaches. It took nearly nine months for me to learn it". He also spoke about starring alongside actress Aditi, saying "Aditi, being a great sport, encouraged me saying that she was ready to go for any number of takes to help me out and gave me tips now and then".
Sufiyum Sujatayum has been produced by Vijay Babu under his banner of Friday Film House. Directed by Naranippuzha Shanavas, Sufiyum Sujatayum will be exclusively on Amazon Prime Video.
Watch the official Alhamdulillah song video here: