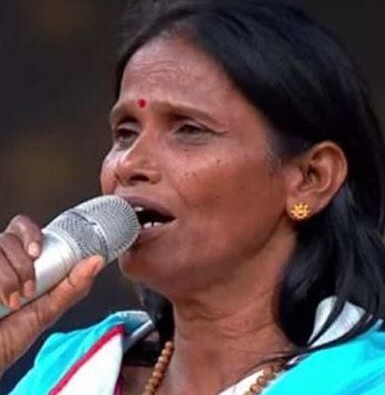 Street singer Ranu Mondal recently touched the hearts of thousands across the globe when a video of her performing on a train in India went viral.  
In the clip, Ms Mondal can be seen and heard singing her rendition of 'Ek Pyaar Ka Nagma Hai', which was first heard in the Bollywood film Shor (1972). She has now just finished recording her version of the track with star Himesh Reshammiya. 
Ms Mondal indeed began her singing journey as a damsel in distress who's fairytale was about to begin. She boarded a train in West Bengal and chose to belt out Bollywood's greatest hits. Her performance included a number from Lata Mangeshkar, who is often referred to as India's nightingale. 
Some of the passengers on the train were so impressed by the busker's vocal talent that they decided to record her on their smartphones. And that was that, a clip was uploaded onto social media and she became a viral sensation overnight.  
Many would agree that Ms Mondal being offered a singing contract for Himesh Reshammiya's new film Happy, Hardy and Heer has been a huge turn of events for her. The fact that she will also feature on Superstar Singer has worked out in her favour, she now has a stable source of income and can do well for herself. However, many would see her situation as an example of Bollywood exploiting the poor under-class. 
Reshammiya wrote about his meeting with Mondal: "Today, I met Ranuji and I feel that she is blessed with divinity. Her singing was mesmerising and I could not stop myself from offering her the best I could [sic]." 
The fact that Reshammiya sees himself as capable of providing "the best" for Mondal could be underlining how the rich see themselves as powerful and controlling enough to influence the lives of the less well off. Many would find his comment condescending and snarky.   
Others could also argue that Reshammiya is using his elevated platform of stardom to advertise how he is a well-wisher of the poor and earn gratitude. However, there are thousands like Mondal who struggle to make ends meet in the city every day, and are not lucky enough to get their '15 seconds of fame.' 
Although watching videos of singers such as Mondal achieving their big-break gets in touch with our humanity, the story does not stop there. It is important that we nurture that charitable feeling inside us and use it to help others who are less fortunate than ourselves daily. We can do this by donating food and drink to the needy, like many passengers on the train did to Mondal, or donating our time and effort in volunteering to give aid to those on the streets. 
Manisha Bhanot.