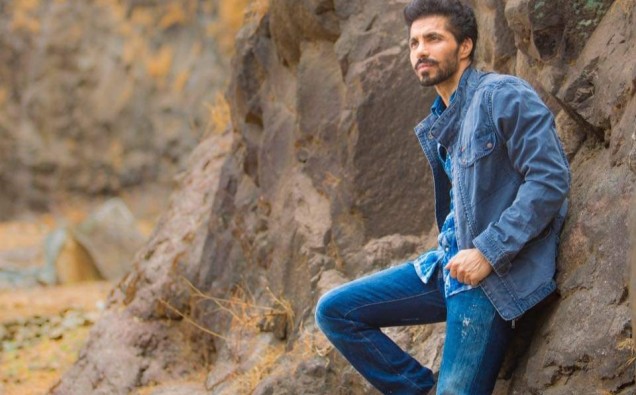 1) Tell us a bit more about the Synopsis of the film and what kind of experience audiences can expect from watching the film in theatres? 
The film is based on a short-story which we adapted and made into a script. The storyline revolves around today's Punjab, especially the villages in the region and the kind of life one lives there. I think that the film is a type of content cinema with a concept that myself and the producers believe in strongly. 
2) What was it like being on set and working with fellow cast members Guggu Gill, Amrit Aulakh and Mahabir Bhullar and director Jatinder Mauhar? What was the group dynamic like, did you all get on well with each other backstage? 
Yes, I think we did get along well together. When you work as part of a team there's always going to be differences between yourself and others. There are times when you're friends and times when you're not. You may agree on some points and disagree on others. But then again, all of us possess strong personalities, and all of us were working towards a collective goal – to make a really great film.  
3) How does your role in Saade Aale differ from the characters you've played in your former films such as Ramta Jogi, Jora 10 Numbaria and Rang Punjab to name a few? 
The role I had to play in this film was especially different in regards to the other projects I've acted in. In Ramta Jogi I played the character of a boy next door who falls in love. In Jora 10 Numbaria I played the role of a gangster as it was a crime drama. In my third film, Rang Punjab I was a cop. And now in my fourth film Saade Aale, I'm playing a guy from a village who's a sportsman! Not only is there a lot of variation but there's a completely different type of life that I get to portray with each acting role.  
4)   You were born in Muktsar, Punjab within India. Was it difficult creating a name for yourself in the entertainment and show business industry after coming from a regular family background?  
There's always a struggle in everything people do. But it's our passion, honesty, focus, and hard-work which takes us forward. And trust me it really happens – if you dare to dream, life takes you towards that direction. As long as you can visualise yourself doing a particular type of work, you can end up there. And that's how my journey is – I believed in myself and I knew I would get there.  
5)   You have been known to have disconnected with the Modelling industry quite early in your career to have begun practising as a lawyer instead. You formerly worked with Sahara India Pariwar as legal advisor and with the British law firm Hammonds. What was the reason for this brief change in career before you went on to become an actor? 
I started to model when I was at a younger age alongside my studies. My father was a Lawyer and after graduating from Law school I went on to complete my Masters and practice as a lawyer myself. Of course, I was interested in Law but my real passion was for creativity – for film making. At one point I just realised I needed to follow my dream, which is to make cinema and so I left Law behind completely to become an actor.  
6)    Without revealing too much, can you tell us about your most memorable scene to film in Saade Aale? 
There's this scene in the film where I come back from wherever and I meet a persona who is very similar to the role of a Mother for my character – the way we embrace and cry together was an especially emotional scene and an amazing experience to film.  
7)    What kind of response are you expecting from audiences once the film hits cinemas nationally and overseas? 
Of course, as actors we always want people to go and watch the films we make and to love and appreciate our work. I'm no different as an artist. I'm not sure what type of commercial angle the film will take but I want people to go and watch it in cinemas and enjoy themselves overall.  
Manisha Bhanot