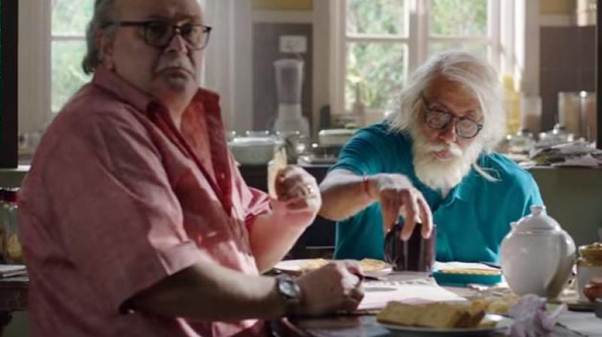 This upbeat number, sung by Arjit Singh, gives us an exciting look into what to expect from the film and the baap-beta duo.  Director Umesh Shukla stated that Singh's voice was "fitting with Mr Bachchan's character in the film, who believes in living life to the fullest". Watching the video, this is more apparent than ever; Dattatraya (played by Bachchan) has a childlike innocence which is evoked through the song.
We also get to see more of 'old school beta' Babulal (played by Kapoor), who is quite the opposite of his fun-loving father. Whilst 102 years young Dattatraya tries to break the world record for the oldest living man, 75 year old Babulal has already resigned himself to old age and misery.
102 Not Out is a comedy-drama produced by Treetop Entertainment and directed by Umesh Shukla. 102 years young Dattatraya Vakharia (Amitabh Bachchan) lives life to the fullest and wants to break the record of oldest living man- that's held by a 118 years old Chinese. Dattatraya wants to live a stress free life in order to become the oldest living man. However, there is only one hinderance- his 75 year old son Babulal (Rishi Kapoor) who has resigned himself to a life of old age stuck in drudgery.
Dattatraya now must find means and ways to change Babulal's sad and grumpy demeanour so that he doesn't become a deterrent in breaking the record.