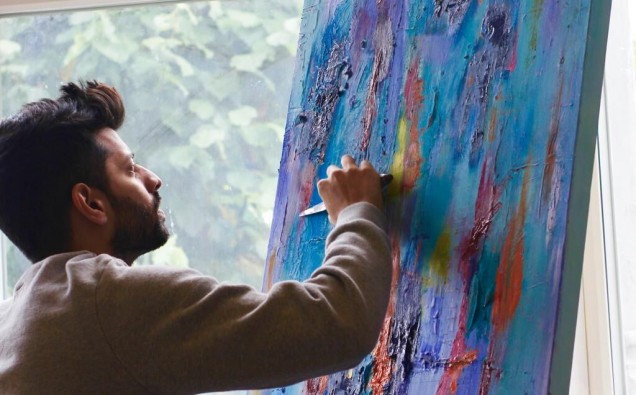 Despite following a traditional career pattern like most Asians his age,  Rajan  Seth, has challenged the status quo by kick starting a career as an abstract artist through his brand Evocative Design.  
 With very few young Asian men taking the step to dedicate their careers to such a profession, Seth is one of the few artists of his background taking the world of abstract art by storm. Seth has battled through societal and financial pressures in substituting life as a successful city accountant to pursue his passion as an abstract artist which has already seen him complete commissions for multiple clients. Seth's approach to creating bespoke artwork is flexible, collaborative and unique in that he adopts experimental and unconventional methods to create art through using unusual tools such as palette knives and paint scrapers.  
 Seth's Instagram account showcases a number of pieces that were created as an aspiring abstract artist pursuing a hobby, but after he gained substantial interest from his ever increasing fan base, which even boasts the occasional notable celebrity, Seth has now evolved his brand by focusing on commission based work, which he believes gives a much more personal client experience.  
 Seth says "Having worked as an accountant for almost 10 years, I believed it was time to take the leap and fulfil my own artistic journey.  I have always been passionate about using art work to bring an interior to life. I love visiting clients' homes and helping them decide a colour scheme to match their interior. As well as working hard to produce bespoke pieces of work for my clients, I am keen to encourage other young professionals to follow their creative dreams." 
 Seth aims to establish a pop-up gallery to showcase his recent work within the next year. To learn more about Evocative Design, visit the Instagram page @evocative.design.