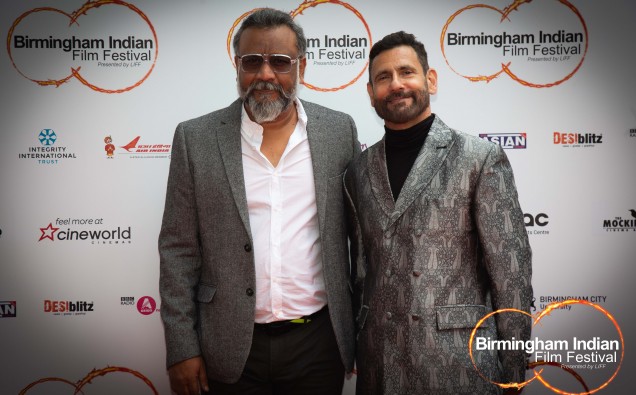 ICON awards go to Anurag Kashyap, Gurinder Chadha, Buddhadeb Dasgupta
The 10th anniversary of the UK and Europe's largest South Asian film festival, supported by the Bagri Foundation and the British Film Institute (BFI) opened with Anubhav Sinha walking the red carpet, for his heard hitting thriller Article 15 (out now, on global general release), and closed in London, with an array of high profile awards and a sold out screening of Photograph at BFI Southbank, London, with director Ritesh Batra in attendance for a Q&A. The festival featured the biggest line-up to date, celebrating a decade, with 100 events across 5 cities in the UK which will continue to run until July 8th.
The festival showcased a number of high profile and emerging women film-makers films, while the overall festival included community screenings, including encouraging Asian women (some of who had never been to a cinema before) to attend screenings in London and Yorkshire, working with community partners.
LIFF continues its commitment to impaired hearing communities with a BSL (British Sign Language) signed debate around the film Bulbul Can Sing by Rima Das, with her 2nd film in succession, at the festival after Village Rockstars in 2018. The festival this year has offered 55 percent of women film making talent, and LGBTQ+ helmed films, including shorts.
The festival's new partner is the mental health awareness organisation – Thrive LDN. Anurag Kashyap opened up on stage at the BFI, to Girl with a pearl earring director Peter Webber, bravely speaking about his periods of depression, coming to terms with it, and how daily swimming has helped him manage this. Kashyap and other male celebrities from the subcontinent are important role models for men who are at higher risk of depression and suicide because of cultural hang ups, stigma, and pressure to not talk about feelings and personal problems. Radhika Apte (Netflix Sacred Games, Lust Stories, Ghoul, Andhadhun, Pad Man) candidly spoke about her battle with anxiety, giving the audience in depth glimpses into her life and work, and how she has straddled her international success.
The festival included many film industry events, with a detailed master class about OTT platforms like Netflix, and India related content, at the BAFTA guru lounge, with Sacred Games director Anurag Kashyap (Gangs Of Wasseypur) and Delhi Crime director Ritchie Mehta (India In A Day).
QUOTES FROM THE WINNERS

Anubhav Sinha, director of Article 15, winner of the (LIFF audience award) – Article 15 is out now on general release, distributed worldwide, by Zee Studios International
Delighted to have won the LIFF Audience Award. So happy that the film actually connected with Indians abroad and with non Indians alike, who are not facing this version of inequality on a daily basis.
Gurinder Chadha (ICON)
I am delighted to be honoured and recognised as an icon by LIFF. Working as a British Asian woman in the entertainment industry has many struggles, so it feels good to be recognised. Thank you.

Buddhadeb Dasgupta (ICON)
LIFF is a wonderfully curated film festival that's been growing strength to strength, with the festival Director Cary Sawhney and his team's relentless hard work and commitment towards it. It is an important festival worldwide and I believe it will grow further because of its love for pure cinema. I feel happy and greatly honoured to receive this ICON Award.
Anurag Kashyap (ICON)
I'm so grateful to receive this award, but I suspect that the ICON award is trying to tell me that I must retire, which I refuse to do as I will never retire from film making. LIFF will have have to give me many ICON awards before I retire. I love LIFF.
Radhika Apte (Outstanding achievement award)
I'm so honoured to receive the award at LIFF. I want to congratulate the festival for creating an opportunity every year, for Indian cinema to be showcased in England, and also the for the UK audience to experience the best of Indian cinema and talent. I look forward to be a part of their future adventures.
Richie Mehta (Outstanding achievement award)
I'm honoured to receive this award. LIFF continues to shine a light on independent South Asian cinema. While my recent work is in the series space, it's still independent in spirit, and made by a team of people who believe in the power of storytelling to move and inspire, just as Cary and his team continue to promote the same.
Harshvardhan Kapoor (Rising Star Award)
This award is an unbelievable honour. I'm so shy and awkward when it comes to these things, and I'm still trying to feel my way into the industry. It's nice whenever people recognise you for doing good films, and it feels good.
Rohan Parashuram Kanawade/U Ushacha – Satyajit Ray short film award winner of £1000 from the Satyajit Ray foundation
LIFF has always held a special significance for me as one of world's most prestigious film festivals, that emphasises on quality cinema. It is a great honour for me and my team to have our film 'U Ushacha' win the coveted Satyajit Ray Short Film Award.
QUOTES FROM THE FESTIVAL DIRECTOR AND TITLE SPONSOR
Cary Rajinder Sawhney MBE, Executive & Programming Director of LIFF
On our 10th Birthday year I'm delighted that we have not only expanded to 5 cities with 100 screenings, but also showcased our strongest film selection ever, helmed by the world premiere of politically daring film Article 15. Continuing to push the boundaries of diversity, I'm very pleased that our women protagonist led and LGBTQ+ themed films have seen audiences flocking to them, redefining images of Indian and South Asian culture in the media.

Title Sponsor, Alka Bagri, trustee of the Bagri Foundation
2019 has been one of the best LIFF's yet, with a thought-provoking and fantastic programme of South Asian cinema. Many of these films otherwise may not have been shown in the UK, and for us, it is important to introduce them, the film-makers and the actors to new audiences. It was wonderful to see this year such a diversity of film lovers attending the screenings. Congratulations to LIFF on 10 strong years!