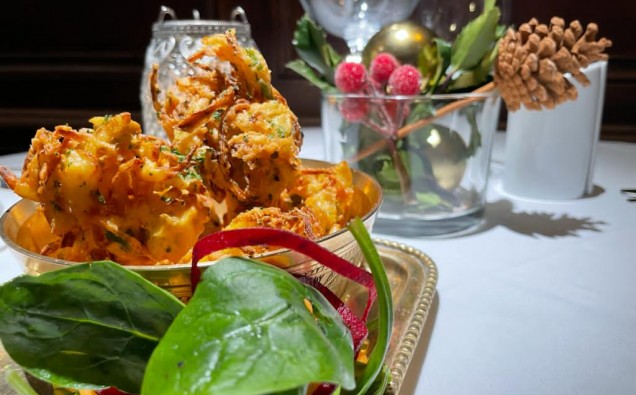 Buckingham Palace sends message of support
The first British Curry Day has been widely deemed to have been a remarkable success, raising large sums for local charities around the country, despite extensive lockdown restrictions.
A letter of encouragement from Buckingham Palace reported that Her Majesty the Queen was interested that restaurateurs had "supported their local community and wider society during the pandemic" for British Curry Day and its commemoration of the early "curry pioneers."
The day had celebrated the lives and achievements of those elderly restaurateurs and chefs, who created the unique British Curry fusion cuisine in the 1960s and '70s, many of whom have been lost to the COVID pandemic.
British Curry Day is the brainchild of Spice Business magazine publisher Enam Ali, founder of the prestigious British Curry Awards, who was awarded the MBE for services to the sector in 2009.  Over the years he has raised more than a million pounds for charities, including £80,000 on a single night in his Le Raj restaurant in Epsom, Surrey for London Help a London Child with host Chris Tarrant OBE.  Le Raj will be donating raised almost £700 for Children's Trust in Tadworth, from the sale of its onion bhajis.
"Sadly, we have lost many of the country's first curry restaurateurs, to the pandemic," said Enam Ali, adding, "These people came to a strange foreign land at the invitation of the British government and through their own endeavours and willingness to work anti–social hours – often enduring abuse from post pub closing time drunks – built a special industry, which is now an integral part of British society.
"Without these curry pioneers' innovations with chicken tikka masala, onion bhaji and prawn puri and Indian restaurants wouldn't be as popular as they are today," he said.
More poppadoms are sold in the UK than India, where they are eaten as a snack – not served in restaurants as a pre starter.
The theme for British Curry Day was #BackTheBhaji represented one of the numerous items on British curry house menus, developed for British palates listening to customers' feedback.  The large British onion bhaji evolved from the base ingredients of onion rings.  They can now be found in curry houses across the globe, but are rarely found on the Indian subcontinent.
Most participating restaurants donated the price of each bhaji sold on the day, to their preferred local charity. Some also gave the proceeds from the sale of Chicken Tikka Masala – "Britain's national dish" or contributed their own cash.
One restaurant, Bina Tandoori www.binatandoori.com  in Caversham, near Reading in Berkshire, gave its entire day's takings to the Launch Pad www.launchpad.org charity, which supports the homeless.
Many other restaurants also chose to support homeless organisations, including The Ambrette gourmet venues in Kent and East Sussex, which sold pre mixed onion bhaji batter form home cooking, in aid of Porchlight and Catching Lives charities
The British Raj Express in Royston in Hertfordshire raised £1000 in memory of their founder, the late Nazir Uddin Choudhury, by donate all proceeds from the sales of every Onion Bhaji, Chicken Tikka Masala and Ginger Chilli Chicken Tikka Masala.  The funds will be used to provide free meals to the vulnerable, children entitled to free school meals and NHS staff working at over the festive period.
Despite support from restaurants, takeaways and their customers, many planned events had to be cancelled or curtailed because of the new lockdown measures announced a week before.  Many curry restaurants are concentrated in Tier 3 areas, and so had to confine their charity promotions to takeaways.  In Tier 2, long hoped for reunion diners from friends and family, have to be postponed.
"Despite the hospitality sector being the hardest hit by Coronavirus and the lockdown rulings, restaurants have once again shown remarkably support to charities who have had their own fundraising abilities and events severely hampered.
Next year, British Curry Day will be held on Thursday 1st December.