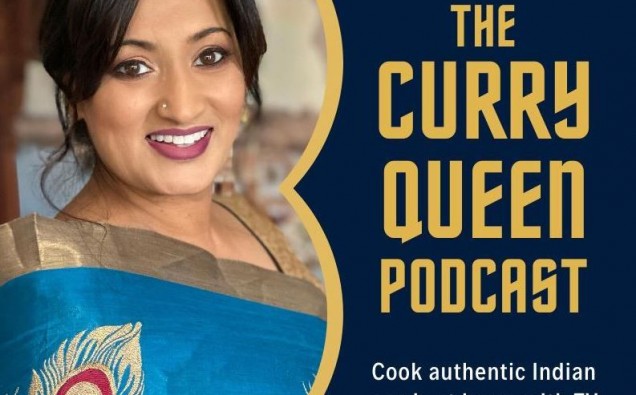 Learn to cook authentic Indian food in real time with The Curry Queen Podcast 
Multi award winning Indian food expert has teamed up with Podcast Labs and together they bring you The Curry Queen Podcast. 
This incredible podcast idea is aimed at helping Indian food lovers achieve delicious food in the comfort of their homes. 
"People ask me how I achieve delicious Indian flavours and they're floored when I tell them how easy it is to achieve. You don't need fancy skills or qualifications. I'm not a commercial chef. Not even close. I'm talking zero formal qualifications. A few hygiene and food allergy certificates however, I have a passion for authentic, healthy and easy to create Indian food. All you need to do is listen to our Podcast with the ingredients at hand and follow our step by step guide. By the end of the podcast you'll have a delicious, mouth watering dish you can devour. It's a no-brainer". 
Sarah has been featured in hundreds of cookery demonstrations all over the country with her authentic recipes handed down to her from family and through research. 
Media publications including Forbes, The Independent, The Sunday Post, Asian World, Asian Voice and many more refer to Sarah for advice about Indian food. 
"I can tell you this, there's no big secret behind it. I have the 'inside connections' and I certainly don't pay for the privilege of going bigger with my message" says Sarah. 
"Leveraging the media is how I built my business from scratch, and I still haven't found a better way to grow my audience than sharing my knowledge. We really want our audience to get involved and try cooking at home. Send us your pictures of your food or videos of you trying it out, give us comments and feedback and help us to help you achieve perfect cooking results", says Sarah. 
Podcast Labs amplify your brand through the power of audio and so working closely with Andy and Kelly has been paramount to the success of the launch of The Curry Queen Podcast. They have helped me in planning original content, the sound quality is phenomenal and they are actively helping me grow my audience while building my brand. It really helps that they also love Indian food and Andy in particular loves cooking. It's a match made in heaven! Kelly has worked within branding and marketing and really knows exactly how to grow brands and market them. I'm thrilled to be working together with them both". 
Register to receive the first episodes and ingredients list straight to your inbox when The Curry Queen Podcast launches. 
http://sarahalichoudhury.com/curry-queen-podcast/