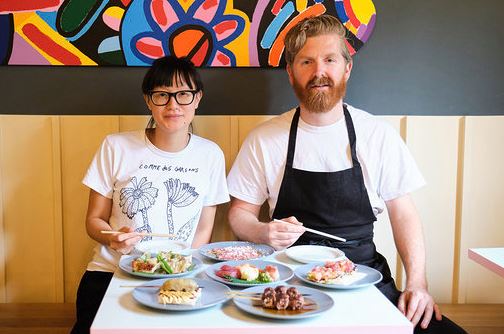 Brett Redman,co-owner and chef at the Covent Garden Japanese restaurant Jidori which has a modern menu that showcases classic Japanese dishes with a twist served in a Grade II Georgian townhouse where the new-look interiors take inspiration from the vibrant back streets of Tokyo! An exclusive for Asian world news
In 2006 Brett Redman opened his first restaurant, Elliot's, in a little disused shop on Bethnal Green road serving locally sourced and seasonal dishes made from the best possible ingredients available each day, before moving the restaurant to Borough Market.
After many years of talking about it whilst eating and travelling together, Brett worked with long-time friend Natalie Lee-Joe to open Jidori, a yakitori restaurant in Dalston with a second branch following in Covent Garden in February 2019. Using Brett's experience as a chef cooking great quality produce over wood and charcoal they devised a menu based around Yakitori skewers.
They reopened their Covent Garden site following a seriously stylish refurbishment in summer 2019, with new-look interiors taking inspiration from the vibrant back streets of Tokyo and split over four stories of a Grade II Georgian townhouse.
Columnist Riccha Grrover in conversation with Brett Redman 
RG- What does the name of your restaurant 'Jidori' mean?
BR- Jidori is a special breed of free-range chicken renowned for its robust flavour and impeccable freshness in Japan. It's used at the best Yakitori-yas and is like the Wagyu beef of chicken! At the restaurant, we consciously use every part of the chicken whether on a stick, as flavouring for broth or to enhance our tare sauce. Our name is  a symbol of the premium produce we use.
RG- Where does the menu draw its inspiration from?
BR- From the vibrant Izakayas and Yakitori-yas of Tokyo, traditional Japanese pubs and casual restaurants famous for serving a variety of skewers and small plates shared over drinks. At Jidori, we've taken the dishes from a traditional yakitori menu and applied a modern twist to create variations of much-loved classics such as our katsu scotch egg, tuna tostada, and milk pudding with shiso.
We also offer a concise list of Japanese and local beers ranging from Asahi and Hitachino White Ale to Kernel Table Beer, which pair perfectly with yakitori. For sake fanatics, we are true to our Japanese roots and offer a variety of sakes from an elegant and smooth Daiginjo, to a zesty and dry Honjozo. We've also created a fun twist on classic cocktails such as our Umeshu spritz – umeshu, Aperol, gin, soda and plum bitters, or the Tomu margarita – tequila, mezcal, yuzu and agave with a togarashi rim.
RG- What are the 5 top dishes you recommend for a first-time diner? 
BR- It would have to be our yakitori donburi, a rice bowl with onsen egg and your choice of yakitori, and our ginger ice cream with miso caramel and sweet potato crisps. The negima – chicken thigh and spring onion is a firm favourite, as is the tsukune – minced chicken served with egg yolk and tare. If you can't decide I always recommend our Omakase tasting menu, a selection of 12 of our best dishes!

RG- What kind of meal experience can diners expect when they visit Jidori?
BR- Quality produce cooked over real charcoal on Kama-Asa Shoten grills, sourced directly from Tokyo, with fun, friendly service in a bright and refreshing atmosphere.
We've also taken the izakaya philosophy of bringing the fun back into dining by adding a private karaoke suite downstairs. Great for birthdays, work celebrations, or just a night out with friends, karaoke is the perfect way to build up some serious appetite and give guests a side of entertainment with their meal.
RG- Tell us about the vibe that has been created in the restaurant?
BR- The unique fun of an Izakaya is hard to replicate but we've done our best! At Jidori, it's about eating a little too much, drinking a little too much and feeling relaxed over a meal with friends or family or singing your heart out in our basement karaoke suite. It's a very convivial atmosphere.
RG- What kind of decor and music vibe is at the restaurant and what kind of ambience does it create?
BR- At Jidori we're all about creating a fun and playful atmosphere and mirror this in our décor with a colour palette of pastel and neutral tones, maple wood features, hanging basket lighting, bamboo and potted plants, and bright pops of artwork. The restaurant is spread over four storeys of a Grade II listed Georgian townhouse, and each floor has its own unique look and feel. When guests step inside, they are transported to the vibrant back streets of Tokyo: a maze of tiny drinking dens and Yakitori-yas.
RG- Do you cater for varying dietary requirements like vegan et al?
BR-100%. Some of our most popular dishes are vegan or vegetarian such as our nasu – miso glazed aubergine, and kinoko – shiitake and shimeji mushrooms, and we make sure to offer a wide selection of vegan and vegetarian dishes to complete a meal. Most of our dishes can also be made gluten-free, including almost all of our yakitori, and we make a special gluten-free tare.
RG-Do you have specials or is it always a fixed a la carte menu at Jidori? 
BR-We have an à la carte menu in Covent Garden with a few seasonal specials such as our venison tsukune, a new feature on the menu for game season. We also offer our Omakase chef's tasting menu, and our Yakitori Plate – a selection of negima, tebasaki and tsukune skewers, with rice, spicy cucumbers, egg yolk and tare.
At Dalston we offer daily specials such as mackerel yakitori with horseradish, oyster mushroom tempura, and grilled summer corn with nori butter.
RG-How would you describe the restaurant in 5 words?
BR-Modern, fresh, fun, exciting and authentic!
RG-What words of advice do you have for budding restaurateur and chefs?
BR-Work hard, travel often, and try out as many different types of restaurants as you can to get as much experience as possible. You can kiss goodbye a regular social life!
RG-How is Jidori different from other Japanese restaurants in terms of the menu and what makes it unique? 
BR-Growing up in Australia, I was exposed to a mix of Asian cuisines and at Jidori our food is inspired, but not restricted by, traditional Japanese cuisine. As a result, we have a more diverse and inventive menu that people can relate to.We create modern Japanese dishes designed to share over drinks that don't shy away from powerful flavours and use the freshest seasonal ingredients cooked over hot charcoal.
Diners can step inside the restaurant and be transported to the vibrant back streets of Tokyo: a maze of tiny drinking dens and Yakitori-yas, with new look interiors designed by Colin Gold. Spread over four storeys of a Grade II Georgian townhouse, each floor at Jidori offers its own unique look and feel with a colour palette of pastel and neutral tones, charcoal navy walls, maple wood features, oak furniture, hanging basket lighting and bright pops of artwork creating a fun and playful feel. Downstairs, mounted shelves display Jidori's sake selection, while collages of circular mirrors, screen prints, and bamboo and climbing plants provide minimalist accents.
This cool, authentic, interesting, yummylicious restaurant is a must visit jaunt for all discerning diners!  A meal within its ambience transports one to the vibrant back streets of Tokyo while sitting in heart of London!
Take a seat at one of the high-top tables on the ground floor, ideal for a quick lunch or dinner and a drink with friends, or head upstairs to one of two bright and airy dining rooms perfect for larger groups or private parties. On sunny days, pull up a stool at one of the tables on the pavement terrace, ideal for sipping sake and people watching!
Attentive service, relaxed vibe, amazing food and varied menu-Highly Recommended.