 By Aneesa Malik
Meera Syals semi- autobiographical 2002 novel, Anita and Me, has been adapted by the award-winning playwright, Tanika Gupta. Asian World had the opportunity to see the show and share our thoughts.
It follows the story of an Indian family in the 70's who migrated to a fictional small mining village of Tollington (Essington – the village just north of Wolverhampton in which Meera actually grew up). Mandeep Dhillon fills the role of the main character Meena, who is a typically rebellious Indian teenager trying to build a friendship with her equally unruly older friend Anita.
The play touches upon issues of racism, hidden behind a clash of cultures between the Punjabi family and some of their uneducated neighbours. Through examples of typically British and Indian cultural attributes, the play paints a vivid portrait of the difficulties faced by a young Asian girl trying to find her own identity. The most obvious was through placing a cream coloured cardigan on her head to resemble her blonde haired friend, Anita.
As these examples continued, there was a constant feeling of reassurance of Meena's character is as authentic as depicted in the book. However, the development of Anita's character was short-lived. Scenes between Meena and her crush Sam Lowbridge seemed to resonate as a more realistic friendship. It only briefly explains why Anita is as irate as she is portrayed.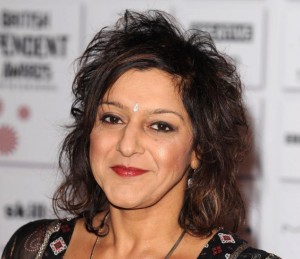 Through a series of events, Meena soon realises that she shouldn't rely on others to justify her personality and is forced to forge her identity based on her experiences with her once, friends. Meena finally accepts that the most important thing is her family and having pride in her culture, a point which is justified by her loveably accepting Nanima (grandmother).
As the story covered such overwhelming topics of race and integration, the musical numbers seemed a little out of place; frankly speaking, they were a little off- putting. It was only through the understated lyrics in the scene between Meena's mum Daljit, played by Ayesha Dharker and Meenas grandmother, played by Yasmin Wilde, which helped convey a reminiscent little picture of being back in India.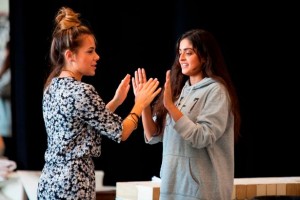 Apart from a few uncomfortably stereotypically racist jokes, the show was a harmless reflection of the realities of an immigrant life. They show how the majority of the British society is accepting of change, whilst a few will never change. A view that is still prevalent today, unfortunately.