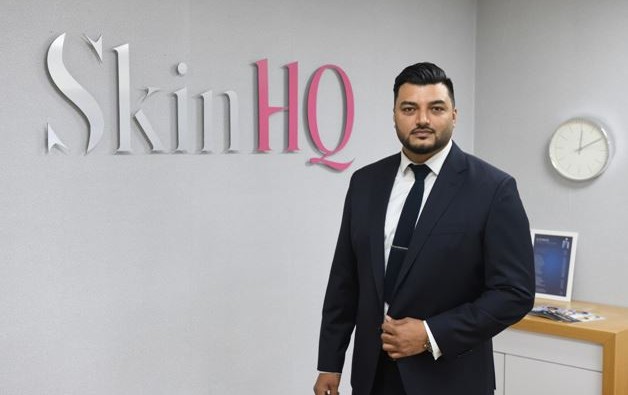 The London-born third-generation Bangladeshi businessman, Haroon Danis, who founded the SkinHQ aesthetic clinics, has received a prestigious Gold Stevie Entrepreneur of the Year Award in the International Business Awards.
The Stevie Awards are considered to be the world's premier business awards, created in 2002 to honour and generate public recognition of the achievements and positive contributions of organizations and working professionals worldwide.
Haroon Danis is the founder of SkinHQ which has clinics in Birmingham, London, Manchester, Liverpool and Bradford
Known as 'International Stevies', the 2020 competition attracted more than 3,800 nominations from organizations of all types in 63 nations.
A judge said that Haroon Danis is a 'fantastic leader who works well with people and also drives positive business outcomes.'  They added, 'I applaud his commitment to job creation and using success to help when it matters most.'
SkinHQ employs 50 people and this will rise by an additional 150 over the course of the next 12 months as new clinics are rolled out throughout the UK.  The brand provides non-invasive aesthetic treatments, including facial treatments and laser hair removal to a diverse and predominantly young, millennial audience.
In addition to the entrepreneurial accolade, the business itself has won a Gold Stevie award in theCompany of the Year category.  Judges noted that SkinHQ responded to the pandemic by giving free treatments to NHS staff and other key workers, valued at £1.34 million and these treatments are currently being fulfilled.
Haroon Danis said, "This recognition is fantastic news for the business and my loyal team of employees who are dedicated to providing a superb service for our customers.  We know that what we do has a positive impact on the mental health of our clients, as well as their appearance.  We help people with skin conditions, such as acne, which can have a devastatingly negative impact on individuals."
During the lockdown, Haroon decided to expand the business quickly through franchising, and is in discussion with international partners including Bangladesh, China, Dubai, New Zealand, Australia and Canada.
Haroon Danis has also written a chapter in a new Amazon best-selling book published by W&M.  'Franchising Freedom!' is an internationally bestselling guide to the industry in which 15 franchising experts candidly share their current best-thinking, strategies and insights.