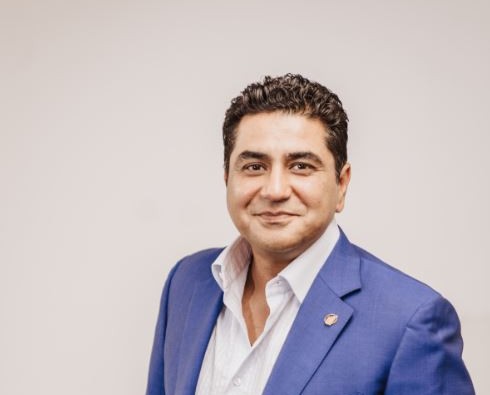 What does the business do?
TravelUp is a leading UK travel agent, working with more than 200 airlines and 400,000 hotels. The business was founded in 2004 by Ali Shah to ensure customers get the best deals on flights, hotels and package holidays.
TravelUp caters to all budgets and major destinations through its bespoke deal finder technology, which searches masses of different suppliers simultaneously to quickly find the best available deals.  While covering destinations all over the world, the business is a leader in long-haul flights, working closely with airlines including British Airways to service destinations including the Far East, US, Asia and South Africa.
When, why and how did TravelUp
When Ali left his home in Pakistan's Sialkot for London in 2002, he spoke no English, had no money, and had no experience of the local travel market. He learned English by keeping the television on all day and night with subtitles running.  Having worked in a travel business in his native Pakistan, he set up an online travel agency, then a novel concept, from his living room in the UK, seeing an opportunity to give consumers better deals on their holidays.
TravelUp began life as a Teletext-based leisure travel agent, specialising in Asia and Australasia holidays rather than short-haul fly-and-flop breaks. When the company started, it did not have access to any airline net rates and had to rely on its customer service ethos, with Ali sending a hand-written thank you card to every customer.
As the use of Teletext declined, Shah opened a shop in Reading, but he soon realised that technology was the way to scale up rapidly. He hired two Sri Lankan developers to build a website and a bespoke booking system, E-Traveller, which is still the backbone of the business. Shah later added a call centre in Pakistan.
How has the business developed since inception? 
From operating as a one-man band on teletext, Ali has grown TravelUp into a business with a turnover of £327m, working with airlines and hotels all over the world. The business now employs more than 170 people globally, with 70 in the UK.
The business really began to take off from 2014, when Ali began selling holidays to North and South America and short-haul packages. He even started his own hotel booking operation.
Having started as a long-haul specialist focussed on Asia, TravelUp now services every continent and flights of all lengths, from holidays to Greece and Cyprus (changing due to current covid restrictions) France and Spain, to Singapore and America.
What is the most innovative aspects of your business?
Our booking system was developed in-house and is the backbone of what makes the business so strong. It allows us to be nimble and stay ahead of the competition, while we have no added costs of working with an external developer.
Having that capability in-house is also what has driven the creation of our unique 'real-time refund check' function on the site. This is automatically plugged into all the airline booking systems, enabling consumers to check the state of their refund. Nobody else has developed something to match this yet.
What challenges have you faced in regard to the above and why, how have you overcome them?
Simply, the speed at which the covid crisis escalated created a challenge. Building these systems takes time, and it took us around 7 weeks to create the real-time refund status check system. In normal circumstances that would be fast, but with travel bookings being cancelled by the day our challenge was getting a system in place to deal with the overwhelming requests and enquiries quickly enough.
What are the most successful products and aspects of your business and why?
Our relationship with airlines is a key to what has made us so successful. Our partnership with British Airways is a good example, we are their principal long-haul partner and recently Ali cemented the relationship by becoming British Airways' General Sales Agent in Pakistan. This was a monumental moment as BA resumed flights to Islamabad for the first time since it suspended its operation in the country in 2008.
What are your development plans and why?
While there will always be a requirement for human interaction, we want to provide 100% transparency to our consumers and let them be their own boss of their travel plans. Our vision is that customers will be able to plan, research, book, manage, adjust, add, remove, essentially do whatever they want, whenever they want with their booking. And this includes while they are in resort not just pre departure. By providing customers the tool to have this level of power and control we are confident that we can provide not just the best deals but the best customer experience available.
How have you been impacted by the pandemic?
Pre-pandemic, TravelUp processed over one thousand bookings per day – and handled 2,500 enquiries. When flights were grounded due to COVID-19, over 122,000 customers had flights cancelled – resulting in an unprecedented volume of refund requests. To cope with the volume of customer enquiries, TravelUp has restructured the business and introduced new ways of working. It reopened phone lines as soon as safe to do so and increased the customer service team from 15 people to 60, and has become the first travel agent to develop its own fully automated online refund process.
Please tell us a little more about your Trust Account Campaign?
TravelUp has launched a campaign to stop passengers being denied airline refunds in the future. The company is lobbying the Civil Aviation Authority (CAA), MPs and Government Ministers to propose a 'trust account model' where payment for customer tickets is ringfenced until flights depart.
Many passengers have experienced frustrating delays over the last few months trying to get their money back after flights were cancelled due to coronavirus. Some airlines refused to issue refunds at all and have only offered credit vouchers for future flights.
TravelUp, which passes ticket payments straight on to airlines, found itself having to battle to get money back on behalf of customers. The firm is proposing the CAA introduces a new system, in association with the International Air Transport Association (IATA), so money is only transferred to the relevant airline once the flight has departed.  This would enable funds to be returned quickly if the flight does not leave.