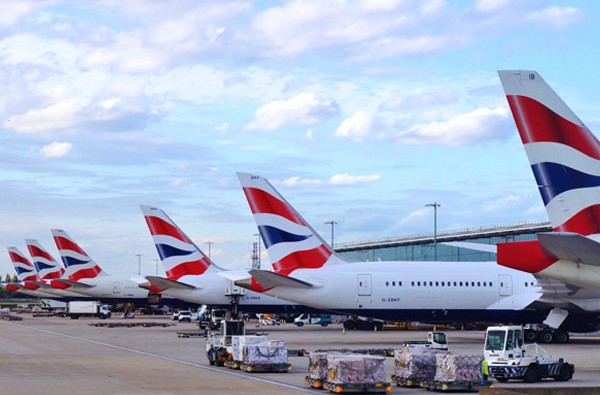 British Airways has further extended the cancellation of flights to mainland China until after Easter amid the spread of coronavirus.
Services from London to Beijing and Shanghai will not operate until April 17.
The flights to the two Chinese hubs were previously suspended until April 1.
This is the third extension of the service cancellations to China originally announced at the end of January.
The move came as the number of coronavirus cases worldwide rose to more than 80,000.
At least 77,000 people have been infected in China, with more than 2,600 deaths.
Japan confirmed more than 850 infected people, most of them quarantined on cruise ship Diamond Princess in Yokohama. Local news network NHK also reported a fourth death among the ship's passengers.
Italy has placed towns in the regions of Lombardy and Veneto on lockdown as the number of cases reached 229 – the largest number in Europe.
The UK government today urged people who have travelled to northern Italy – north of Pisa – since February 19 and have developed symptoms to self-isolate although travel advice has not changed.
South Korea has suffered the highest numbers of coronavirus cases outside of China with numbers up sharply to more than 800.
Concern over the impact of coronavirus hit shares in travel companies yesterday.
The biggest faller in the FTSE 100 was EasyJet, which dropped 16.7%, while Tui and BA owner International Airlines Group were both down by more than 9% at the close of trading.
BA said: "Following the Foreign Office's continued advice against all but essential travel to mainland China, we have cancelled our flights to and from Beijing and Shanghai until 17 April 2020.
"This situation will remain under review and we will continue to provide regular updates. If you have a booking with us, please make sure we have your contact details.
"We'll do everything we can to help customers affected."
Referring to Italy, easyJet said: "We are aware that the Italian authorities are taking some additional measures in response to cases of coronavirus in the country.
"There is currently no change to advice for airlines or customers, so our flights are operating as normal and standard terms and conditions on tickets continue to apply.
"We would like to reassure customers that our existing policies and procedures are in line with the guidance provided by the World Health Organisation (WHO) and EASA (European Union Aviation Safety Agency).
"We remain in regular contact with the authorities and will amend our procedures if and when required if guidance changes.
"The health and wellbeing of our passengers and crew is the airline's highest priority."
Meanwhile, All Nippon Airways extended the suspension of numerous routes between Japan and cities in China until March 28 but is still running a daily frequency between Tokyo Haneda airport and Beijing.