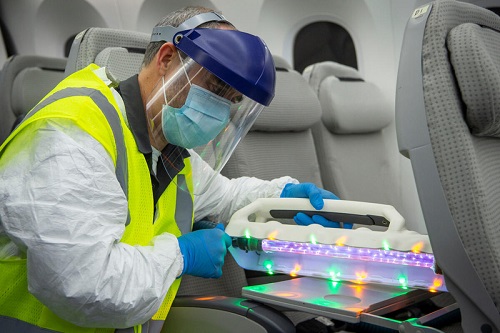 Traveling is slowly recovering back in Covid-19 pandemic. Various airline companies and aviation related industries are taking extreme safety measures for the travelers to fly safely through flights. The U.S. based Boeing company conducted a research with the University of Arizona for taking out solutions to disinfect the airplane from the virus and keep it safe for the humans. This research is successfully effective in its first series.
On an unoccupied Boeing airplane this test was done on a live virus called MS2. This MS2 virus is safe and does not harm humans and is more difficult to kill than SARS-CoV-2 . MS2 virus is never used in an airplane cabin and it's the first time used in a Boeing airplane. University of Arizona Microbiologist Dr. Charles Gerba said, "This study allowed us to test and validate for the first time that disinfecting solutions kills SARS-CoV-2 on an airplane. It's important to recognize we are not only talking about SARS-CoV-2 but also other viruses and microorganisms."
MS2 was placed on strategic high touch points throughout the cabin including on seats, arm rests, seat cushions, stowage bins, tray tables and lavatory galley. Through two means: Manual wiping and electrostatic sprayer chemical disinfectants were applied / sprayed on the airplane. University of Arizona analyzed the test & results showed that these methods can successfully destroy MS2 virus.
According to the Boeing press release , " Research is still continued with the university of Arizona to test the recommended cleaning methods in the lab against SARS-CoV-2 and other similar viruses to further validate their efficacy. "Boeing is the world's largest aerospace company which also leads in technology and innovation. This research of Boeing is part of its Confident Travel Initiative (CTI) which is led by Mike Delaney with University of Arizona and their main aim is to develop new solutions to safeguard the health of air travelers from coronavirus.
By: Rida Khan ( Aviation Author )
( Instagram A/c : aviationauthor.ridakhan )