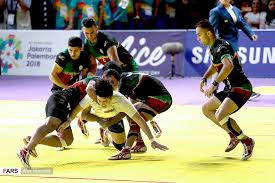 Kabbadi is a competitive contact sport which originated from ancient India. It has been an official sport in the Asian Games for the last 30 years, where both men and women participate in the highly physically demanding tournament.
For those that don't know, Kabaddi is an easy to learn and crowd entertaining sport. The lines on a Kabbadi playing field can be compared to that of a Badminton court. Each match is divided into two halves of 20 minutes, with 7 players on each side, which are split into the raiders and defenders. The raiders attack by running across the centre line and tagging as many people as possible on the defending team. The player must shout 'Kabaddi' in one breath when running from one side of the playing field back to his home turf, for his team to score points.
Kabaddi United Hong Kong, is a sports group founded in 2014 which aims to promote inclusion of ethnic minorities by introducing the sport into local communities. The initiative seeks to foster social inclusion and for participants to learn about cultural diversity through playing the game. Since being founded, Kabaddi United Hong Kong has collaborated with over 42 organisations and run approximately 150 workshops with more than 2,000 participants.
Lo Yuk-Kwog explains why Kabaddi has been utilised in aiding to resolve the social inclusion problem. "There are people who want to help ethnic minorities, unfortunately they only advocate policy changes, which turns out to be empty talks since it could not help explain why we should not discriminate them," he says.
At present, there are a handful of ethnic minority ambassadors working in Kabaddi United Hong Kong for the betterment of the community. Lo comments: "They can get very delighted when people in Hong Kong are actually interested in their sport and culture. They can gain satisfaction when they share their culture with Hong Kong people," he says.