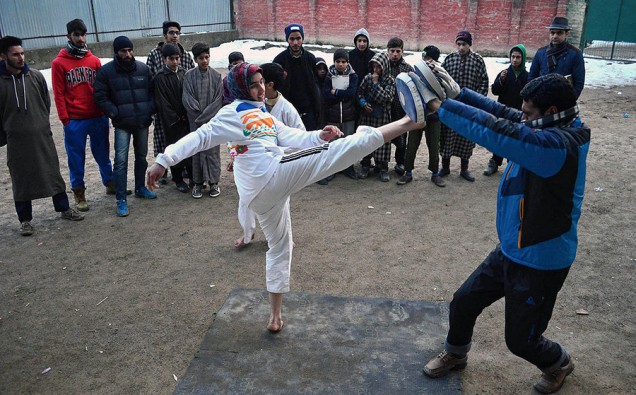 When Insha Mir was first embarassed by neighbours for playing cricket, she ignored it by remembering her father's words: "Don't answer people with your mouth, but through your bat."
Mir, a student at Government Women's College, is the daughter of a businessman father and homemaker mother. Both immensely support her passion for sports.
"When I carry my cricket bat in my hand, I forget who I am, I forget my food, everything. I can do anything for cricket," Mir says.
She's part of the new generation of Kashmiri girls showing their skills in sports such as rugby and football to karate. In Jammu and Kashmir, the girls are fighting gender stereotypes every game. Mir's and her teammates' view on this is that gender is no handicap; "We are in the 21st century and we shouldn't be living like ancient times," she says. "Girls who can carry a broom can also pick up a bat."
Kashmir is a disputed territory, claimed by both India and Pakistan. Reports claim a death toll of 41,000 lives in 27 years. Today, youth are at the frontline of the Kashmir movement, joining street protests and insurgency groups.
Irtiqa Ayoub, a player and assistant coach for the state rugby team said: "I still go out during curfew or protests to give training to fresher players," whilst also studying at the University of Kashmir, aswell as running 10 rugby clubs.
Her usual reply to aspiring rugby players on social media is: "You're most welcome. Whenever you have time, come and I will teach you."
Without proper facilities or a coach, Mir learned cricket skills by watching cricket matches on television, and by asking senior cricketers for tips when she travelled outside of the state for cricket.
Their hard work has paid off, with Mir recently playing in the region's first-ever twenty-overs format Women's Cricket Championship. Ayoub has also made a name for herself, winning gold and silver medals in national championships. The future is shining bright for the sportswomen of Kashmir.