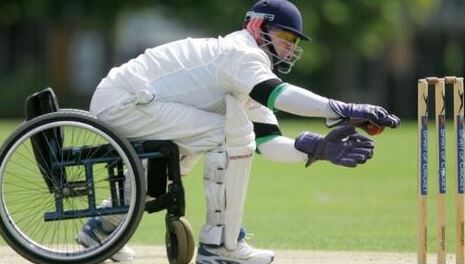 While the Paralympics has been for some time the most high-profile exponent of disability sport, other sports which are not included in that event are coming on leaps and bounds, none more so than cricket. 
England's heroic triumph in the ICC ODI cricket world cup has put cricket more in the public conscience than any other time in living memory. As a result, people of all situations are showing more and more of an interest in participating. To facilitate this, it is important that there are opportunities for people with disabilities to play cricket. These are offered by England's 'Physical Disability' and 'Learning Disability' squads. 
One in five people in the UK purport to have a disability. Meanwhile, a 2015-16 study cited by The Guardian reports that those who are disabled are twice as likely to be physically inactive. This proves beyond any doubt, the importance of there being avenues through which those who are disabled can get into sports and other physical activity. 
At a recent training session at the National Cricket Performance Centre in Loughborough, people of a multitude of physical ailments were present, ranging from cancers to amputations and club feet. All of the participants are united in their desire to prove themselves in a sporting capacity, not to have their disabilities dwelt on. They also bear the responsibility of setting an example for children who are disabled and would benefit from sports involvement. 
At their weekend training session, the Physical Disability elite squad are due to be joined by England Cricket's deaf team, uniting groups of people who are set on sporting achievement in spite of ailments which set the odds against them. 
However, there is even more that can be done. According to Ian Martin, the head of disability cricket at the England and Wales Cricket Board, 'The number of blind cricketers alone in India would drown the number of visually impaired athletes in Paralympic programmes across the world'. This suggests that it is possible to cultivate a culture in which people of disability feel entitled and driven to join in with a nation's passion. Although our country may be a way off this, the recent world cup success could well pave the way for a new wave of interest from all areas of society.  
Liam Thomas, the vice-captain of England's physical disability side, says that Matt Askin is "Our most improved player over the last couple of years". Askin, who abandoned his prosthetic arm to play one armed instead, is representative of a great new wave of disabled cricketers, who are exemplary for younger people who may have previously felt that their physical or learning disadvantage would hamper their chances of succeeding in the sporting world. With the great work that is happening in Birmingham and across the UK to involve people in sports who would not have been previously involved, we could be on the brink of something inspiring. 
Will Rymer