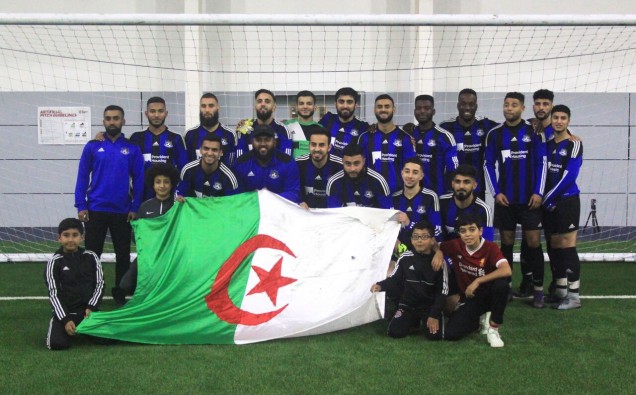 Birmingham County Football Association supports inaugural tournament to celebrate the diverse communities of Birmingham County and the West Midlands.
Team Birmingham Algeria wins the final against team 'Positive Youth Foundation (PYF) Syria'
The final match of the inaugural Birmingham County Football Association Community World Cup was held at St. George's Park National Football Centre, the home of the England national team.
The final was won by team 'Birmingham Algeria' who beat team 'Positive Youth Foundation Syria' by four goals to nil.
The England manager Gareth Southgate sent a special video message for both teams wishing them luck ahead of kick-off.
The Final was an enthralling game as both teams created a lot of chances and showcased great energy and athleticism. The game remained level until the first goal came just before half-time with team Birmingham Algeria taking a one to nil lead into the break. PYF Syria came out of the blocks in the second half, but unfortunately missed a series of chances that would have brought them back into the game. Team Birmingham Algeria then started to take control and capitalised by scoring three goals in less than five minutes. This was enough to see them emerge victorious as the winners of the first ever Birmingham County FA Community World Cup.
 Eight teams entered the pilot competition during the summer of 2018, representing some of the diverse communities that are based in Birmingham including Algeria, Andorra, Brazil, Kurdistan, Bangladesh, Egypt, Pakistan and Syria.
The tournament was organised by Obayed Hussain, Co-Director of the West Midlands Active Citizens and Equalities Officer at the Birmingham Football Association, with the aim to celebrate diversity and increase participation in sports amongst the local community.
He said: "The Birmingham County FA Community World Cup was a great success as it enabled the different communities within the West Midlands to share their passion and enjoyment but also helped to promote fair play, tolerance, inclusion and respect.
"The final match was fantastic, just like the whole tournament. There are a number of different diverse diasporas living together in Birmingham, who all have strong connections to their heritage. I believed it was important for them to showcase and celebrate this heritage through sport.
"I would like to thank Ken Campbell, the teams and all the staff members involved for helping to create such a fantastic occasion. A massive thank you also goes to Lincoln Moses MBE, who presented the trophies to the teams during the medal ceremony. And of course congratulations to team Birmingham Algeria on their formidable win."