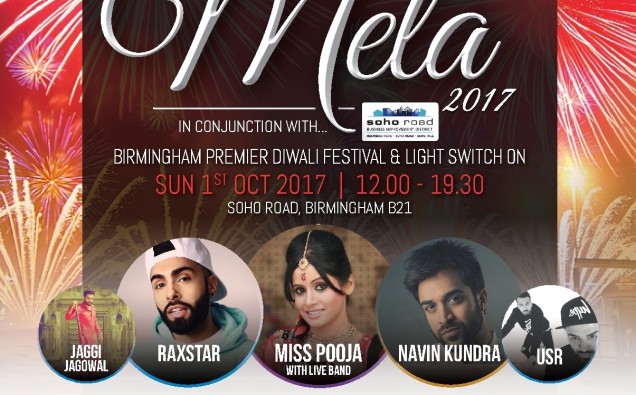 Star Plus Diwali Mela 2017 in Conjunction with Soho Road BID is Birmingham's premier Diwali Festival which will be held on the 1st Oct 2017 from 12 noon to 7.30pm based in Soho Road, Handsworth, Birmingham B21. The celebrations return bigger and better for the 4th year running to light up our streets this October.
Diwali, one of the most significant cultural events in the Hindu, Sikh and Jain calendars, has been celebrated in Birmingham for many years. The festival kicks off at 12 Noon and culminates with our famous lights switch-on by the Lord Mayor and international artist Miss Pooja at 7.00pm. Entertainment will be taking place all afternoon with a jam-packed 7 and a half hours of dancing, drumming and music on our biggest stage yet.
We have 8 free children's rides to entertain the kids as well as face painting, comedy photo booths, giveaways, pony rides, Harry Potter Birds of Prey on display throughout the day plus a large market area allowing you to stock up on all those Diwali essentials. We have a fantastic selection of activities taking place around the Business Improvement District during the day and hope you can join us for family fun and entertainment.
Up to 20,000 people will be celebrating with us throughout the day watching the lights being switched-on, followed by a vibrant programme of music and dance
The Soho Road Business Improvement District Area will be bathed in light throughout the festive period until the 1st week of January totalling 126 light installations over a mile and a quarter giving a beautiful array of colourful warm lights throughout the cold winter months.