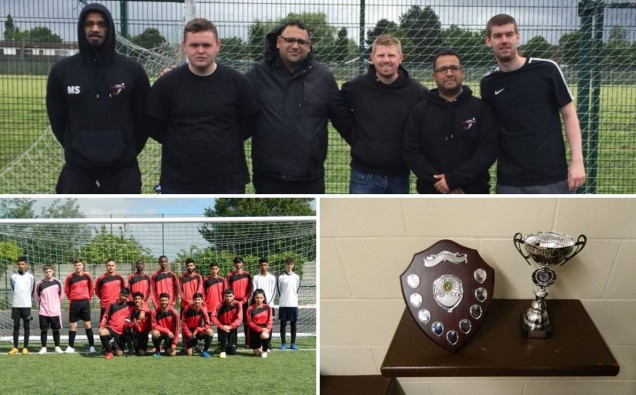 More Than Football (MTF) is a youth sports club that specialises in football, based in the Bordesley Green area of Birmingham, MTF has been running since January 2017.  
MTF was set up by a young man who lived and grew up within the Bordesley Green Area. After spending 10 years working at Saltley Wellbeing Centre, football coaching and running sports schemes over half term holidays Barrie Colder thought it was time to do more for the community that had made him into the person he was. 
In January of 2017 MTF, which was only a two-man coaching team, launched their first football session based at Bordesley Green Girls School. The sessions were a huge success and since then MTF has gone on to run multiple sessions for all ages throughout the week and even set up an inner-city league, the Central Birmingham Youth Development League that brings many different teams from the local area to compete against each other to half term holiday camps attracting over 50 children per day. 
 MTF is a self-funded grassroots organisation that bases its ethos around developing the whole child not just developing their footballing ability. Sport is a fantastic way to engage with young people and a powerful tool to break down social and economic barriers between families and different communities living in the same area.  
Since its humble beginnings, the MTF coaching team has continued to grow. In our second year since establishment, 3 more volunteers came on board, which took MTF to another level and meant we could offer greater support for the children we raised. After a discussion with one of the MTF parents and a discussion between the coaches, we realised one of the biggest barriers facing the children that we worked with was their ability to travel across Birmingham. This meant that playing in the Central Warwickshire League was unrealistic, never the less this did not deter the passion and commitment of the MTF team bringing competitive football to the children of Bordesley Green. 
In September 2018, the Central Birmingham Youth Development League (CBYDL) was launched and lead by a dedicated MTF coach Muhaned Saleh. The aim of the CBYDL is to encourage the development of football, ensure that youth are engaged throughout the year, inspire them to participate in competitive sport, help and promote enthusiasm for the game and most importantly, to have FUN! 
The league brought together several local teams like MTF to play each other on a regular basis from one central location, therefore removing all the travelling across Birmingham which was a major barrier to many of the children. The league was refereed by ex-MTF players to give them an experience of work and managing situations. The league was a huge success, and so, we decided to run a league for two age groups under 13s and under 10s. The league grew from 6 teams to 14 running 4 weekends a month.  
Alongside the league, the under 17's team had a season that was even more successful than their first. With a new manager, the team went unbeaten and did not drop a single point all season. This surpassed any of the coaching staff's expectations but was a credit to a team that had worked tirelessly in training for 2 years. The undefeated team who finished fourth the year before proved that nothing is impossible with the right attitude, desire and belief. Their season was topped off by a dominating performance in the cup final against a local rival where MTF ran out 5 -3 winners. 
 Looking forward MTF is looking for more volunteers and sponsors to get involved and change the lives of the young people they work with. It is well understood that participation of youth in sport fosters the important life skills, such as leadership, goal setting, time-management skills, good sportsmanship, developing resilience, dealing with disappointment and growing from constructive criticism. This participation can offer a host of other advantages that can benefit the young players in all aspects of their lives, including better grades in school, greater family attachment and ward off depression, sedentary lifestyles and result in less participation in anti-social behaviour.