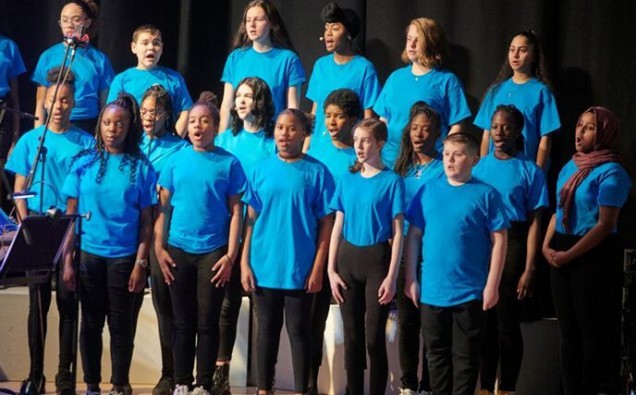 ++ Over 5,000 Birmingham and Coventry children honour the 112 UK Holocaust survivors through commemorative arts project, Echo Eternal ++ 
++ Birmingham and Coventry communities invited to commemorate and support local young people through the arts ++  
To mark Holocaust Memorial Day and as part of the two-year anniversary of Echo Eternal – a commemorative arts, media and civic engagement project – on 28 January 2020 Birmingham's CORE Education Trust is bringing together professional artists and over 450 students from across Birmingham and Coventry to perform and share their commemorative responses to the testimonies of Holocaust survivors.  
For the second year running, CORE Education has been successful in securing a National Lottery Project Grant from the Arts Council. This year the funding will pay for a youth arts festival, the Echo Eternal Youth Festival, which will run over a three-week period across Birmingham and Coventry later this month.  
Echo Eternal – conceived by CORE Education Trust on behalf of the UK Holocaust Memorial Foundation (UKHMF) – uses the power of art to empower local young people, enabling a conversation around the atrocities of the Holocaust, and through this, tackling ongoing challenges of persecution and cultural differences in today's society.  
The 2020 Echo Eternal Youth Festival will take place over three weeks in January and February 2020, and will include: 
live performances at Birmingham Town Hall on Tuesday 28 January 2020 at 1.30pm and 7pm – 

tickets are £6 and can be purchased at the Town Hall, Birmingham Box Office

, or families of participating schools can also contact their schools direct; 

 
an exhibition in the Library of Birmingham from 20 January to 10 February 2020 and another at Coventry Cathedral, both from 20 January to 10 February 2020; and 

 

local

 community events across Birmingham and Coventry – led by local schools taking part in the project.  

 
Broadcaster Natasha Kaplinsky interviewed 112 Holocaust survivors for the programme and 450 students from across seven Birmingham and six Coventry schools have worked with artists throughout the project's second year to create their response to these powerful testimonies: eternal echoes. The 2020 festival will see the culmination of all their hard work, with the wider community, local dignitaries, government officials and Holocaust survivors invited to attend in commemoration and in support of the young people and local artists taking part. 
Eight Birmingham schools and six Coventry schools will take part in the performance, which will consist of newly commissioned music, dance and spoken word tributes as part of a live event at the Town Hall on 28 January – as devised by Coventry's Highly Sprung Performance Company and the Royal Birmingham Conservatoire. CORE Education Trust's 'CORE Us' choir will also perform, a choir formed of over 40 children from across CORE Education's six schools in Birmingham.   
Local students will exhibit their artistic responses to the testimonies at the Library of Birmingham and the Coventry Cathedral. Each day students will invigilate and be on hand to speak to visitors. The exhibitions will display 19 films, raw extracts from survivor testimony films and artwork by the students.  
Participating schools have also created a timetable of events and activities taking place throughout January for their local communities to take part in, connecting with UK Holocaust Memorial Day activities on the theme of Standing Together. This includes a series of film showings and book readings to parents and the wider community, book readings, and in-house activities, such as assemblies revisiting their creative responses to the testimony.  
Over the course of this year, participating students have made civic pledges that aim to make a positive societal change, inspired by the Great Get Together initiative in memory of Jo Cox. Each of the 14 local schools has formed a civic alliance with another Echo Eternal school to deliver on their pledges. Student pledges from this year include: 
To help people recognise that they have more similarities than differences;

 

To help refugees feel welcome, included and have equal rights; 

 
To challenge discrimination;

 

To include people in activities so that they do not feel alone; and

 

To help those who are homeless.

 
This time last year, on the first anniversary of Echo Eternal, the creator of the project, Adrian Packer CBE, CEO of CORE Education Trust, received the Prime Minister's Points of Light award for his work on Holocaust Education in a surprise presentation from Natasha Kaplinsky.  
Adrian Packer CBE, CEO of CORE Education Trust and Founder of Echo Eternal said: 
"Through Echo Eternal we have engaged some of the most marginalised young people in Birmingham and Coventry and created the right environment for intelligent and sophisticated conversations between generations that get at the heart of hate and intolerance – and all this made possible because of the arts. 
"Echo Eternal has taught us how to best use the arts as a way to explore and share the powerful testimonies from the Holocaust, but this annual youth festival is not only in commemoration, it gives young people and artists a chance to develop artistic skills and it gives the wider community a chance to be engaged and challenged on diverse and important issues facing them in today's society. 
"We are delighted that the Arts Council has recognised the significant impact that Echo Eternal has made over its first two years and continues to support our movement."