A twenty-year-old was jailed for using his car as a weapon to mow down a man he was pursuing, leaving him with fatal and life-threatening injuries
The victim, Luqman Mohammed was knocked back over 40ft into the air as a result of being hit by the accelerating driver. He was hospitalized for four months with injuries all over his body and serious brain damage.
The incident in question occurred on The Broadway of Perry Barr, at approximately 1:30pm in August of 2018. The accused, Ibrar Ali had been driving a Toyota Yaris down Slade Road in the Erdington area. Ibrar's brother was being accompanied by his brother in the front passenger seat of his car, when they were approached by a Ford Focus carrying three armed men.
Then men then proceeded to get out of the car and chased after Ibrar's brother whilst they were in possession of batons and machetes, their faces were masked by balaclavas. One member of the gang took a swing at Ibrar's brother, before he was followed down Hillaries Road, Birmingham Crown Court heard.
Ibrar then followed the four of them in his car and ploughed into Luqman Mohammed, causing him to collide with the bonnet. He drove off without any remorse for his victim, who received crippling injuries and now suffers from speech difficulty as a result of the hit and run.
Ibrar was caught on public CCTV laughing about the attack with his brother shortly afterwards, demonstrating that he felt no guilt for his actions. He disposed of his vehicle nine minutes later without any afterthought.
The judge at the hearing stated that Ali had:  "pride in the damage he had caused."
He said the defendant was also "flinging his arms around and laughing at what had taken place."
Judge Drew went on "That reflects your attitude to what took place more clearly than anything else."
Ali was previously acquitted for murder, but he now receives a lengthy sentence delivered to him just a few weeks ago. He will serve 16 years in prison for injury with intent to cause harm.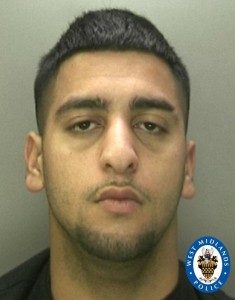 By Manisha Bhanot