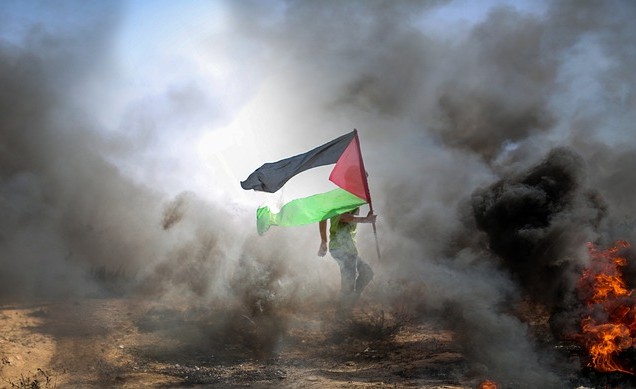 A UN human rights expert warned today that Palestinians are in grave danger of mass ethnic cleansing and called on the international community to urgently mediate a ceasefire between warring Hamas and Israeli occupation forces.
"The situation in the occupied Palestinian territory and Israel has reached fever pitch," said Francesca Albanese, UN Special Rapporteur on the situation of human rights in the Palestinian Territory occupied since 1967.
"The United Nations and its Member States must intensify efforts to mediate an immediate ceasefire between the parties, before we reach a point of no return," said Albanese. "The international community has the responsibility to prevent and protect populations from atrocity crimes. Accountability for international crimes committed by Israeli occupation forces and Hamas must also be immediately pursued," she said.
Since 7 October 2023, more than 1,900 Palestinians have been killed, including at least 600 children, more than 7,600 injured, and over 423,000 people have been displaced as a result of the Israeli strikes. This fate befell a population which has already experienced five major wars since 2008 in the context of an unlawful blockade imposed by Israel since 2007, which Albanese said has been widely condemned by the international community as collective punishment.
On 12 October, Israeli forces issued an order for 1.1 million Palestinians in north Gaza to move to the south within 24 hours, amidst ongoing airstrikes. The next day, Israeli forces reportedly began to enter Gaza in order to "clear" the area. Palestinians have no safe zone anywhere in Gaza, with Israel having imposed a "complete siege" on the tiny enclave, with water, food, fuel and electricity unlawfully cut off. Rafah, the only border crossing that remained partially open to the Gaza strip, was closed after damage caused by Israeli airstrikes.
"There is a grave danger that what we are witnessing may be a repeat of the 1948 Nakba, and the 1967 Naksa, yet on a larger scale. The international community must do everything to stop this from happening again," the UN expert said. She noted that Israeli public officials have openly advocated for another Nakba, the term for the events of 1947-1949 when over 750,000 Palestinians were expelled from their homes and lands during the hostilities that led to the establishment of the State of Israel. The Naksa, which led to Israel's occupation of the West Bank and the Gaza Strip in 1967, displaced 350,000 Palestinians.
"Israel has already carried out mass ethnic cleansing of Palestinians under the fog of war," the expert said. "Again, in the name of self-defence, Israel is seeking to justify what would amount to ethnic cleansing.
"Any continued military operations by Israel have gone well beyond the limits of international law. The international community must stop these egregious violations of international law now, before tragic history is repeated. Time is of the essence. Palestinians and Israelis both deserve to live in peace, equality of rights, dignity and freedom," Albanese said.