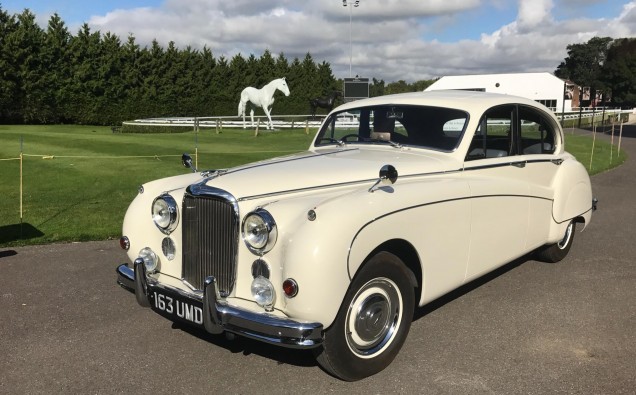 Whether buying or selling, Jaguar enthusiasts can rest assured that they'll be dealing with true 'big cat' experts at Barons' Jaguar Heritage, Classic and Sports Cars sale at Kempton Park Race Course on September 15.
Directors Tony Cavell and Peter Gascoigne have been with Barons since the company was founded 20 years ago and have some 40 years' experience of this iconic British marque, as Tony explained: "Peter and I love and understand Jaguars. From childhood I wanted a Mk II – when I was young they were new and the car to have. I finally achieved that ambition in the 1980s when I moved into a new house, opposite Peter. He had raced Minis in the 1970s, knew I was running a garage and asked if I'd act as mechanic for him if he started historic racing. I also wanted to race, so we bought a 3.8 Mk II between us, prepped it and began what would be more than 25 years of racing together."
As Tony and Peter's race successes were notched up, they came to the attention of other Jaguar racers – and owners of other classic marques – who asked them to prepare their cars as well. Eventually their expertise extended to restoring the ex-Roy Salvadori '1628 VC', the only surviving 'works' Jaguar Mk II racing car. They finished it just in time for Tiff Needell to drive at the first Goodwood Revival in 1998.
Tony is happy to talk at length about what makes Jaguars so special: "From new, Jaguars were very competitively priced and much cheaper than their foreign opposition; an E-type was a fraction of the cost of a Ferrari, for example. The build quality was great – the cars were good to look at and even better to sit in. It was all done by hand and it showed, sit in any Jaguar and you feel that you're in something special. Even the mascot, that prowling Jaguar, was clever – elegantly sporty and so much more effective than a simple badge. That made a huge difference in the early days, and today the mascots are collectable in their own right."
The legendary XK engine is another reason for the marque's enduring popularity, as Tony commented: "Jaguar made a very good twin-cam engine and was one of the first manufacturers to do so. The XK engine was used in sports cars and saloons from 1948-1986 – they got it right from the start. It out-performed the opposition by a mile, was very reliable and had good power. The XK120's endurance and production car speed records of the late 1940s and Jaguar's competition success with C and D-types in the 1950s are testament to the engine's qualities, and it took a long time for other manufacturers to catch up. The XK engine was even used in Scorpion tanks of the 1970s!"
What else contributes to the big cats' popularity for classic car owners?
"The supply of parts is amazing, there are lots of very strong enthusiasts' clubs who are active in racing, conservation and socially, and there are Jaguars for all tastes and budgets. One thing Jaguar did particularly well was to produce multiple variants of a model, and some are now very rare. And all perform well – you can't really call any Jaguar sedate; even the 'stateliest' of Jaguar saloons has plenty of poke once you wind it up!"
Tony also advises that classic Jaguars are a sound investment: "Initially, because of the number of cars produced and people not always looking after them, prices slumped but then they started building – it seems to be a Jaguar pattern. Now almost all classic models are highly valued and sought-after. The XJS was the one people said wouldn't appreciate because too many were made, and at one point you could barely give them away, but now it's following the pattern and values are on the up. Series 3 Jaguars have started to do that as well. Mk VII, VIII and IX didn't initially appreciate so well but good examples of those models are now commanding strong prices, witness the superb 1959 Mk IX we sold at Kempton Park in 2017 for £44,000."