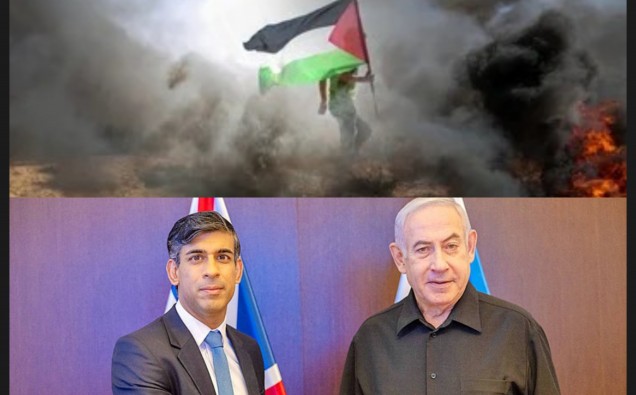 On a quick visit to Tel Aviv, Rishi Sunak told Prime Minister Benjamin Netanyahu, "We want you to win," as a sign of British support for Israel. Sunak stated he "knew" Israel is "taking every precaution to avoid harming civilians" in response to Hamas's strikes while standing next to Netanyahu during a televised speech.
Arriving in Israel, the British prime minister began a two-day tour of the war-torn Middle East. He met with Netanyahu and Israeli President Isaac Herzog. "I'm proud to stand with you in Israel's darkest hour as your friend; we will stand with you in solidarity, we will stand with your people, and we want you to win," Sunak said to Netanyahu following the meeting.
In addition, Sunak sent the "deep condolences of the British people" for the many deaths caused by the attacks. "We're looking to get more support to people as quickly as we can, and we're increasing our aid to the region," Sunak continued. The Prime Minister emphasised that the United Kingdom backs Israel's right to self-defence "in line with international law," adding, "I know that you are taking every precaution to avoid harming civilians," contrasting this with Hamas terrorists who "seek to put civilians in harm's way."
One day before Sunak's visit US President Joe Biden's also visited Israel. After his trip, Biden stated that it seemed, from what he observed, that the fatal explosion at the Gaza hospital was done by "the other team."
Israel has one of the worlds most powerful militaries, funded by more than $3.8bn of military aid annually from the US. The UK has also given its full backing to Israel. The two states have a thriving arms trade between themselves. Recent research shows British made military equipment was used by Israeli forces during last months airstrikes on Gaza.
During the last month, Israel's retaliatory military offensive against Gaza the Ministry of Health has revealed that over 10,000 Palestinians—more than 4,000 of them children—have died in Gaza over the course of the last month. Children, women, and the elderly make up more over two thirds of the Palestinians who have been murdered in Gaza since October 7. The monthly tally of Palestinian child fatalities in Gaza greatly surpasses the yearly total of child fatalities in conflict areas worldwide since 2019. Approximately 1,300 children are among the thousands of Palestinians who remain under rubble yet; the majority are thought to be dead. Over the same time period, about 24,000 Palestinians were also hurt in Gaza; many of them are in severe condition, and the hospital infrastructure in Gaza has failed, making it impossible to provide care for them.
In large UK cities, there have been massive protests over the last few weekends.
Marching in London and other UK cities, tens of thousands of pro-Palestinian demonstrators demanded a stop to Israel's airstrikes in Gaza. Protesters gathered at Oxford Circus, many of them holding placards that read "Free Palestine" and waved Palestinian flags, and then made their way to Downing Street, the official address of Prime Minister Rishi Sunak. There were chants directed at the US and UK governments for their support of Israel.
About 100,000 people, according to the police, gathered in the capital's streets, waving banners and flags and calling for an end to the bombardment.
Protesters holding signs that read "Free Palestine, end Israeli occupation" and "Gaza, stop the massacre" congregated close to the Golden Jubilee Bridge. People began chanting "Stop arming Israel" over a sound system. "We are all Palestinian" and "Stop bombing Gaza." "From the river to the sea" is a chant that some members of the crowd used to refer to the area between the Mediterranean and the Jordan River. UK Home Secretary Suella Braverman had previously urged police chiefs to consider interpreting this chant as a "expression of a violent desire to see Israel erased from the world".
The Palestinian Solidarity Campaign and other activists contest this, saying the slogan refers to "the right of all Palestinians to freedom, equality and justice".
Protests also took place in Manchester, Glasgow, Belfast and other cities. Elsewhere in the UK, thousands attended a pro-Palestinian rally outside Manchester's Central Library at St Peter's Square. About 3,000 protesters gathered in Belfast City Centre for a rally which walked along Royal Avenue to City Hall. A sea of Palestinian flags could be seen in Glasgow, with thousands gathering in George Square in the heart of the city calling for an immediate ceasefire. Some of the crowd clambered onto statues and monuments.