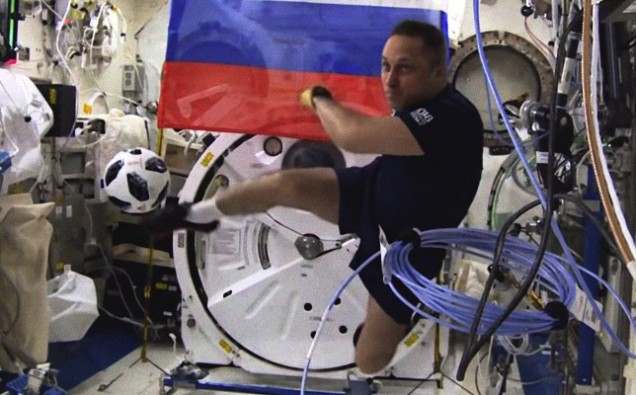 Pakistani fans, who were happy to hear the news of footballs made in Sialkot being used during the 2018 FIFA World Cup, now, have another feat to celebrate.
A recent video, released by Russian state space agency Roscosmos, shows two Russian cosmonauts, Anton Shkaplerov and Oleg Artemyev engaged in a makeshift game of football in space.
Artemyev and Shkaplerov, both wearing official FIFA World Cup Russian 2018 t-shirts, will take one of the Sialkot-manufactured footballs to zero-gravity habitable artificial satellite – the International Space Station (ISS) and hold a match thousands of kilometres up in the sky.
In the cosmic match, one of the two can be seen defending a goalpost made of Russian flag while the other kicks to score goals with the Adidas Telstar 18 footballs.
The Adidas Telstar 18 footballs are manufactured in Sialkot, Pakistan, for the FIFA World Cup 2018.
The company that manufactures the Adidas Telstar 18 footballs said that they had made 'footballs for the German Bundesliga France Ligue and the Champions League' as well.
Khawaja Masood, the chairman of Forward Sports, had said: "This is an honour for us … that we are going to provide footballs for the world cup once again. We are very excited to meet this challenge."
The training session in the orbit around the Earth was staged in the honour of the upcoming FIFA World Cup 2018, which takes place in Russia.
The ball will return to Earth alongside the crew on the Soyuz MC-07.