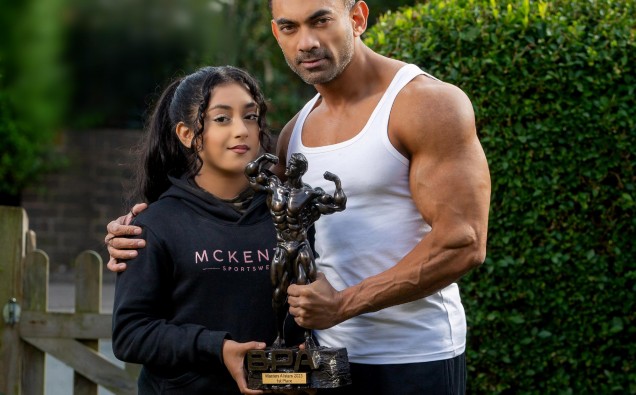 After a two-year hiatus caused by a back and shoulder injury, Syed Rahat Ali Shah triumphantly returned to the stage. He took first position in back -to -back qualifying competitions. He's now preparing for the Arnold Classic in Spain.
Rahat Ali Shah, a remarkable athlete originally from Pakistan and currently residing in Britain, has been creating a sensation in the world of men's physique with his extraordinary consecutive championship triumphs. In recent times, he has emerged as the undisputed champion in two prestigious men's physique competition held in England. Rahat achieved his first triumph at the BPA All Stars Show 2023 in Bilston, United Kingdom, where he captivated the judges with his exceptional physique and left them in awe with an outstanding performance. Seizing the coveted title in the Master's Men's physique category, he showcased unwavering dedication and the remarkable results of his hard work in the gym. Continuing his impressive winning streak, Rahat  Shah solidified his dominance by securing yet another victory in the highly esteemed UKBFF Stars of tomorrow competition. Once again, he merged as the unrivaled champion in the Men's Physique category, cementing his position as a formidable force in the world of bodybuilding.
These consecutive triumphs not only brought Rahat Shah well-deserved recognition but also opened the doors for him to compete at even higher levels. His consecutive victories have granted him the privilege of participating in the prestigious Arnold Classic and the highly anticipated World Championship. With unwavering determination and an unyielding drive for success, Rahat Shah, hailing from Pakistan with British and Pakistani heritage, takes the international stage, striving to bring glory to his country.
Rahat Shah is not only a devoted family man but also an immense source of inspiration for those striving to accomplish their goals.Despite facing numerous discouragement and being ridiculed by industry professionals, Shah was unwavering in his determination to defy the naysayers and carve his path as a model, leaving no stone unturned in his pursuit.For the sake of himself and his family, especially his daughter who inspires him every single day to keep working hard, he was extremely dissatisfied with his body and would do anything to improve it.
Having launched his career in Pakistan, Shah's trajectory skyrocketed when he teamed up with renowned Pakistani photographer Sheraz Ahmad. The work he undertook with Ahmad was widely disseminated throughout Pakistan, and after achieving considerable success there, he came to the conclusion that he might also succeed in the UK. During his time here, Shah encountered an unfortunate injury that temporarily halted his progress. However, with the unwavering support of his beloved wife and cherished daughter, it was his daughter's inspiration and encouragement that ignited Shah's determination to resume training. Within a remarkable span of just 12 weeks, Shah regained his remarkable form, driven by the desire to make his daughter proud once more.
Reflecting on his journey in the realm of bodybuilding, Rahat expressed, "The bodybuilding community is an incredible source of motivation, fueled by the competitive spirit and the relentless pursuit of excellence." The desire to succeed is shared by all. Consequently, it is a setting that is highly competitive. People are nevertheless, eager to assist you in any way they can. Within the bodybuilding fraternity, fellow competitors generously exchange their diverse training methods and dietary techniques, facilitating personal growth and enabling individuals to address their weaknesses effectively. Such camaraderie and knowledge sharing contribute significantly to refining one's own approach and bolstering overall progress.
During his relatively short career, Rahat Shah garnered numerous notable accomplishments in the realm of bodybuilding, establishing himself as a standout figure in the field. Rahat Shah's exceptional feats in bodybuilding, despite residing abroad, serves as a profound source of motivation for aspiring and emerging bodybuilders in Pakistan. Having pursued studies in fashion photography and graphic designing in the UK, Rahat Shah demonstrated remarkable prowess in bodybuilding by clinching the first-place position in the 2017 UKBFF Championship. Additionally, he secured the coveted title of ABF overall Champion in the same year.
Embarking on his bodybuilding journey in the UK in 2017, Rahat shah showcased his remarkable talent by securing a commendable 6th place in the IFBB Arnold World Classic Bodybuilding Championship held in Spain 2018. In an impressive display of consistency and skill, a more two weeks later, he merged as the triumphant champion in the Men's Physique Category of the British Bodybuilding Championship. He became the first Asian and Pakistani to clinch this coveted title at Nottingham in October 2018.
Over the year, Rahat has won numerous competitions, including first place in the UK Bodybuilding Fitness Federation. In The British Alliance Organization, he also took first place. He has earned spots in the British Championships, Diamond Cup, and Arnold Classic. Rahat achieved a remarkable feat by securing the coveted first-place position at the esteemed Sugar Classic Bodybuilding Competition. For those seeking fitness advice or aspiring to achieve their own body transformation goals, Rahat can be reached on Instagram with the handle @rahatfitnessworld.
Rahat Ali Shah's remarkable journey to becoming a British champion in men's physique stands as a testament to his unwavering dedication to honing his craft. Having already claimed victory in the British Championship and numerous other prestigious titles, Rahat Ali Shah attributes his success to an extraordinary source of inspiration-his beloved daughter. She has become the driving force behind his pursuit to becoming a world champion, igniting an unwavering passion within him to reach the pinnacle of his support. As Rahat Ali Shah sets his sights on the upcoming Arnold Classic and World Championship, he persists in pushing his boundaries through relentless training and unwavering focus. His determination knows no bounds as he strives to excel on the grandest stages of his support. He sincerely asks his fellow citizens for their prayers and support as he works to realize his goals and reach even higher heights in the field of men's physique. Rahat Shah also expressed gratitude to his gym, 18-year Ultimate Fitness, for sponsoring him and allowing him to exercise day and night. It is to note that Rahat is also the winner of Stars of tomorrow, the Sugar Classic and the Azadi Classic.