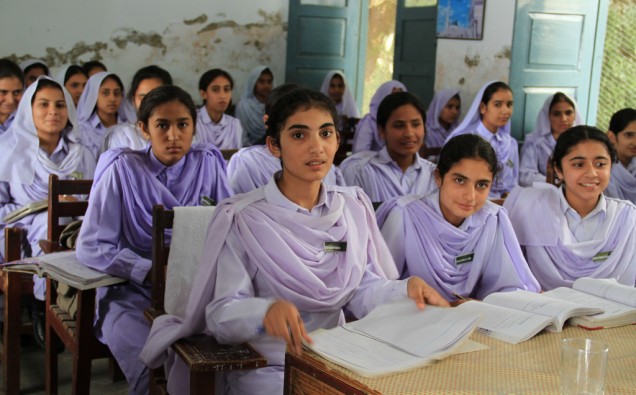 Previous Pakistan Tahreek-e-Insaf Government of Khyber Pakhtunkhwa recruited IT Teachers and Computer Lab In-charges both males and females in the Elementary & Secondary Education Department Government of Khyber Pakhtunkhwa.
They were recruited on contract basis under the project "IT/Computer Science Teachers and Computer Labs Project in Khyber Pakhtunkhwa (Phase-II)" in 170 High and Higher Secondary Schools of Khyber Pakhtunkhwa through NTS. The contract was extended from time to time. 2,000 NTS contract IT Teachers of 2014, 2016 and 2017 batches along with 37,000 other NTS contract Teachers then regularised through the assembly Act which was officially notified on 08 January 2018.
Mentioned Project expired on 30th June 2017, and the contract was not extended, but instead, they were included in regularisation bill without extension, a lapse committed by Education Department. IT Teachers continued their services during this interregnum period and still performing services as directed by the Education Department.
All NTS Teachers along with junior IT Teachers of 2016 and 2017 batches have been notified regularly, but senior IT Teachers of 2014 batch are still hanging among Departments due to the lapse of the Education Department. The Summary is still hanging among Departments although Ex-Chief Minister Khyber Pakhtunkhwa Parvez Khan Khattak has approved in last Cabinet meeting held on 24 May 2018, to expedite the case.
Affected NTS IT Teachers of 2014 batch have met with Honorable Prime Minister Imran Khan three times in Bani Gala regarding the issue. He has ensured regularisation each time they met him. He also has appreciated that these NTS IT Teachers of 2014 batch are well qualified and have followed proper tests and interviews.
Affected IT Teachers are continuously rendering their services without salaries for the last 15 months up till now, but no one considers these services. That can be considered as basic human rights violation. These Employees along with their families are badly affected economically as well as mentally. Similarly, 170 computer laboratories and about 40,000 children would be deprived from IT if the same situations persisted.
Ex-Chief Minister Pervez Khan Khattak has already issued a letter to Chief Secretary Khyber Pakhtunkhwa on 30th May 2018 to take action in the matter of affected IT Teachers as desired by the Chief Minister Khyber Pakhtunkhwa to regularise their services but no fruitful results were seen till now.
IT Teachers of 2014 batch demand for speedy justice and appeal for stoppage of bureaucracy game for last 15 months.
We submit a very sympathetic appeal to Honorable Prime Minister of Pakistan Imran Khan and Chief Minister of Khyber Pakhtunkhwa Mehmood Khan to solve the issue of IT Teachers of 2014 batch on an emergency basis. The parents of the affected IT Teachers submit a humble request in the honour of Prime Minister of Pakistan and Chief Minister of Khyber Pakhtunkhwa to invoke extraordinary jurisdiction for IT Teachers and provide speedy justice to the families of the affectees and resolve their issue of regularisation on a humanitarian basis.