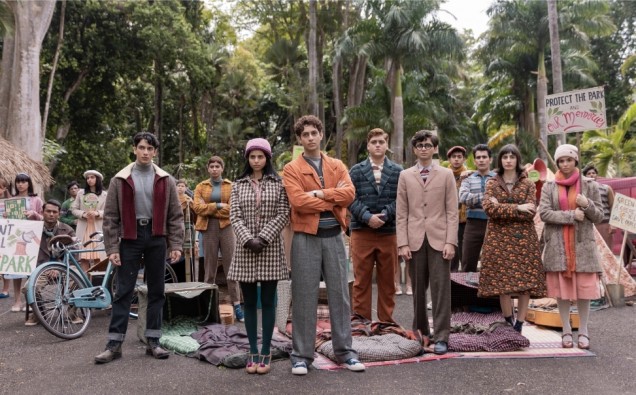 Netflix India launched the much-anticipated trailer of 'The Archies', a Zoya Akhtar spectacle produced by Tiger Baby, Graphic India, and Archie Comics, that transports the audience to the whimsical world of 1960s Riverdale, India. The trailer unfolds a musical narrative led by seven charming characters from the beloved Archie comics, steering through the retro alleys of love, friendship, and youthful aspirations.
Earlier glimpses into the world of 'The Archies' were provided through a teaser, engaging character posters, and the catchy tunes of "Sunoh" and "Va Va Voom." Each element presented a doorway into the quaint yet vibrant world of Riverdale. With the release of the trailer, the door swings open wider, unveiling a deeper glimpse into a narrative filled with music, camaraderie, and a quest to make their voices heard. The trailer signs off with a profound message – 'You are never too young to change the world', leaving audiences curious and yearning for the full narrative to unfold.
Speaking about The Archies trailer, Director Zoya Akhtar shared, "Having spent a lot of my childhood  living in an Archie Comic, I'm thrilled to introduce Riverdale to this generation.
The characters are iconic, their teenage life innocent, the world simpler, a time when less was more. Archie Comics, Netflix, Tiger Baby and Graphic India were in complete sync and wanted the adaptation to be as wholesome as the original comic was. It's clean young adult content and was very fresh for Reema and me to work on. It's also very exciting that a global IP chose the India film industry to make its first feature. Excited to get it out there."
Adding onto that, Monika Shergill, Vice president for Content at Netflix, shared, "The Archie comics, with their timeless charm and universal theme of friendship was a loved IP to adapt to the Indian cultural tapestry. We set out with the ambition to make a live action film with an Indian twist, and Zoya and Reema were the perfect choice to bring the story to life. They are incredible storytellers and have made a film full of colour and heart, fantastic characters and toe-tapping songs. The Archies is truly a family entertainer with a touch of delicious nostalgia."
The story of 'The Archies' is not just a tale to be told, but an experience waiting to be lived, releasing exclusively only on Netflix on December 7, 2023.
Starring:
Dot.
Agastya Nanda
Khushi Kapoor
Mihir Ahuja
Suhana Khan
Vedang Raina
Yuvraj Menda
Producers:
Tiger Baby/ Zoya Akhtar and Reema Kagti
Graphic India/ Sharad Devarajan
Archie Comics
Director:
Zoya Akhtar
Written by:
Reema Kagti, Zoya Akhtar & Ayesha Devitre
For further info and press requests please contact Rishma@Wearemediahive.com / Samir@wearemediahive.com