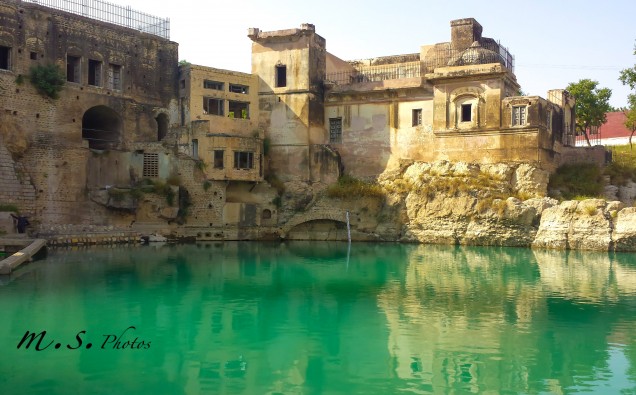 Katas Raj, an ancient Hindu temple associated with Indus civilization is just two hours drive from federal capital Islamabad. This historical temple is located in district Chakwal where primeval history still takes its breath. With 25 hundred feet altitude, temples and surrounding palaces are visible from a far distance with naked eye.
Once it was a center of excellence linked with knowledge and arts including a university which was famous for Sanskrit language learning. It is believed that legendary Muslim mathematician, historian and astrologist Abu Rehan Al bairooni learned Sanskrit language from said university which was part of Katas Raj.
The tales of Katas Raj are also mentioned in the sacred book of "Maha Baharat" which was written almost three hundred years before Christ (300 BC), but history of this region could be traced back to 5 thousand years. In his autobiography, first Mughal emperor Zahir ud Babar revealed that his locality was covered with dense forest and famous for rhinoceros hunting.
The uniqueness of Katas Raj is its pool of water; it has a very interesting story. According Hindu mythology it is believed that when the wife of Lord Shiv died, he cried and wept for a long time. His tears gathered and converted into a sacred pool of water which is now vanishing, yet one can imagine the magnificence of the pond. In Hindu religion, this pond and its water is considered sacred. Each year around the globe including India, Hindu pilgrims visit this place to perform their religious rituals. These pilgrims baptize themselves in holy water and believe this ablution will purify their body and soul.  Pool is encircled by small temples where artwork is telling the ancient architecture of Indus valley.
As you enter Raj Katas main gate, a mesmerizing and gripping scene will welcome you.  A pedestrian path on the left side will lead you to the heights of Katas Raj. There a sign board "Sat Girah" is guiding the tourists about a cluster of seven small temples. There you will find a "barah dari" corridor with twelve doors where one can see and feel the essence of history. It seems that one is travelling in the magnificent past.
Seven Temples "Sat Girah" has a matchless construction pattern. Each temple is a triple story building. One escalating staircase leads the tourists to go to the top. Ground floor was exclusive for prayers and rituals. Second floor contains narrow and dark rooms while the third story provides a bird eye view of Katas Raj.
These temples remain aromatic with 'ager batti' the smoked fragrance. It is said that at the time of temple making, grains and lintels were also used as construction material; this is the reason temples remain chill and cool from inside throughout the year.
The other noteworthy archeological sites of the neighborhoods include; Kali Mata Temple, Sheesh Nag Temple, Holy Tree, Residence of Monks, Lakshmi Davi Temple, Ram Gee Temple, Sacred Well, Ashok's Stupa,  Water cave and a historical gigantic stone. There is a mysterious tunnel in this locality, an interesting saga is associated with this tunnel. It is said that all four vades (Holy books of Hinduism) were written here in this mystifying tunnel.
In 2005 the Punjab government decided to renovate this cultural heritage. Former Indian Prime Minister and BJP leader L. K. Advani inaugurated this restoration work of Katas Raj Temple which was completed in February 2014. Here one can also see and sense the footprints and shads of Greek, Derawar, Mulsim, Jainism, Buddhism, and Sikhism cultural history.
If you want to trace the glory of history, indeed Katas Raj is a marvelous destination where you will experience a fantastic journey and a pleasing panorama.