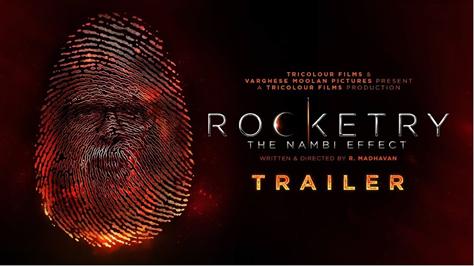 R Madhavan's directorial debut, Rocketry: The Nambi Effect has been creating buzz since its world premiere at the coveted 75th Cannes Film Festival and now is on its way to Times Square in New York. The film's trailer was screened on the NASDAQ Billboard and was watched by fans and the team of the film. In a video shared by Madhvan, the actor was seen standing next to Nambi Narayan himself, who was seated, and the crowd cheers as his life is shown. 
Rocketry: The Nambi Effect has been shot simultaneously in multiple languages including Hindi, Tamil and English, with the English version premiering at the prestigious, international film festival. Its theatrical release, scheduled for 1stJuly, will also feature Telugu, Malayalam and Kannada versions. R Madhavan plays the role of the eponymous, Indian scientist, Nambi Narayanan, a former ISRO scientist and aerospace engineer, and has also directed, produced and written the film. 
Staged on a mammoth scale, the film has been shot in India, France, Canada, Georgia, Serbia and Russia. It features an ensemble star cast comprising acclaimed, international actors Phyllis Logan, Vincent Riotta and Ron Donachiealongside R Madhavan, Simran, Rajit Kapur, Ravi Raghavendra, Misha Ghoshal, Gulshan Grover, Karthik Kumar and Dinesh Prabhakar, with special appearances from superstars, Shah Rukh Khan and Suriya. 
Tracing the life of Narayanan, renowned for developing the Vikas Engine – one of the most efficient, liquid fuel engines in the world today that continues to be a workhorse at The Indian Space Research Organization (ISRO) in almost every launch with the unique distinction of never having failed – the former ISRO scientist and aerospace engineer was inevitably embroiled in a spy scandal. The biographical drama will unveil the truth behind the mystery as it unravels in an interview by celebrated superstar of Bollywood, Shah Rukh Khan (in English and Hindi) and Suriya Sivakumar (in Tamil) on a TV programme. 

Rocketry: The Nambi Effect is produced by TriColour films, Varghese Moolan Pictures and 27th Investments. The film is being distributed by UFO Moviez in India, with Red Giants distributing in the South, and distributed internationally by Yash Raj Films and Phars Film Co. 
Watch the Rocketry: The Nambi Effect English Trailer here: