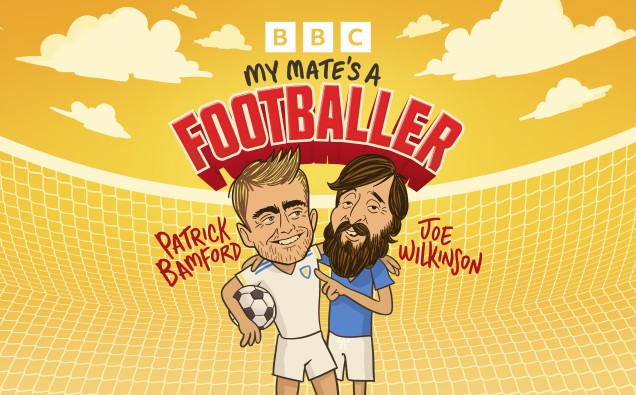 Listen to the first episode of 'My Mate's a Footballer' here: https://www.bbc.co.uk/sounds/brand/p0grxpyk
A new podcast promising sport and comedy is available on BBC Sounds and BBC Radio 5 Live from Thursday 16 November.
In this 20-part series, comedian Joe Wilkinson reveals that he's always wanted a professional footballer as a mate. Fortunately for him, Leeds United striker Patrick Bamford is prepared to find out if the pair can really become true friends.
So that he can become a proper mate and understand what challenges Pat faces, Joe, the lifelong Gillingham supporter, finds out what it takes to play the game at the highest level from the footballer himself.
In weekly 30-minute episodes, My Mate's a Footballer will give an alternative insight into the world of football, with Pat answering any question Joe thinks of. Listeners can expect stories from inside the dressing room at a professional football club, as the two hosts get to know each other.
About the podcast, Patrick Bamford says: "I am delighted to be taking part in this exciting new BBC Sounds podcast, I had my first taste of podcasts during lockdown and I feel like it's a great way to get closer to football fans and give some insight into what goes on behind closed doors at clubs. Joe and I have started well, he is well on the way to becoming a good mate – but let's see how things go over the next few months!'
Joe Wilkinson says: "I'm very excited about taking on the challenge of making a professional footballer my best friend. I can already feel Patrick warming to me"
Stevie Middleton, Commissioning Executive, BBC Radio 5 Live, says: "It's fantastic to have added another footballing podcast to our portfolio. Not only will audiences be able to hear from a top flight striker Patrick Bamford about what goes on behind the scenes at a football club, but Joe Wilkinson will be asking the questions you've always wanted to know the answers to, as well as the ones that probably haven't even crossed your mind. This series will make you laugh and will pull back the curtain on some of the more mundane realities of being a professional footballer."
The opening episode of 'My Mate's a Footballer' is available on Thursday 16 November.