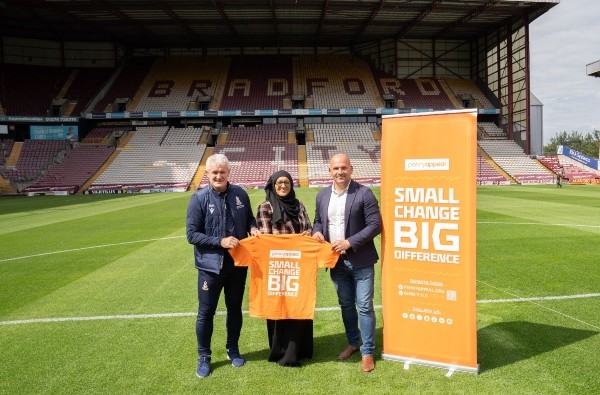 Bradford City AFC announces long term partnership with Muslim led charity Penny Appeal
Bradford City AFC is delighted to announce a long-term agreement which sees Penny Appeal become the club's new official chosen charity partner.
A three-year deal will mean the Wakefield-based organisation, which specialises in international crisis relief, is recognised with main partner status at the University of Bradford Stadium.
Penny Appeal's branding will receive exposure inside Valley Parade, as well as taking pride of place on the sleeves of the Bantams' shirts, in both the Carabao Cup and EFL Trophy competitions.
The partnership will see City work closely and collaboratively with Penny Appeal on a number of initiatives, while unlocking opportunities for Penny Appeal ambassadors to provide entertainment on home match days.
Penny Appeal aids people in over 30 crisis-hit countries worldwide, changing the lives of those in desperate need through projects such as building wells, caring for orphans, delivering medical aid and providing meals.
Ridwana Wallace-Laher, Chief Executive Officer of Penny Appeal, said: "as a lifelong Bradford City supporter, I am incredibly proud that we are partnering with this amazing club to bring about much-needed opportunities for our young people in Bradford and beyond".
"In working together, as organisations who share core values of equal opportunity, growth and prosperity for all, I have no doubt that the lives of many people both here at home as well as around the world will be transformed as a direct result of our partnership and the life changing work we will be doing together".
Davide Longo, City's chief commercial officer, said: "We are immensely proud to be welcoming an incredible organisation like Penny Appeal on board at the club as our official chosen charity partner.
"The work Penny Appeal does worldwide to help those who need it most is truly inspiring, and we are keen to get involved and help with the kind of projects Penny Appeal is already hosting.
"By being partners, not only are we able to unlock opportunities for people across the district, but also help those much further afield with joint initiatives around crisis prevention and relief, religious festivals and more.
"I would like to take this opportunity to thank Ridwana and her fantastic team for their support. We are looking forward to working with Penny Appeal on a number of exciting and important projects, and of course seeing their branding on our shirt sleeves for matches in the Carabao Cup and EFL Trophy."