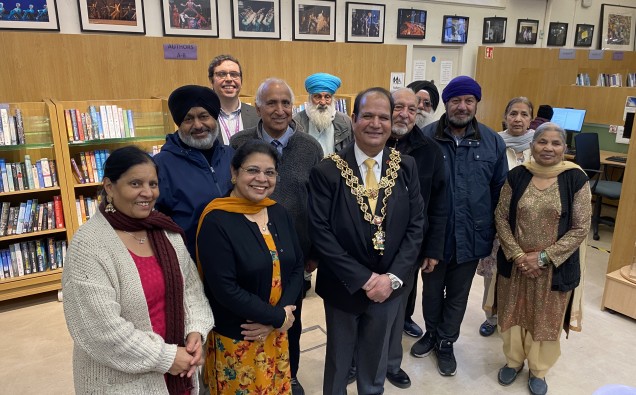 Hundreds of community centres, libraries, places of worship and other venues have all opened their doors to offer Warm Welcomes across Birmingham during the Cost of Living crisis.
And this winter, the city's Warm Welcomes network of community spaces will reach 300 – as the need for support provided by the network has not gone away
To date, since their launch last year, 280 Warm Welcomes have been registered to across various free spaces which offer community and support, as well as somewhere to keep warm.
During the council's Cost of Living Week, the impact of the wider support being provided is even more evident:
Currently 280 Warm Welcomes registered across the city
Cash contributions made to more than 100 food banks
Energy bill top-up payments made to 3,400 households
NAIS and city partners supported residents maximise income by over £4.1m
As of October 2023, the Neighbourhood Advice and Information Service (NAIS) – working with third sector organisations – have supported 3,327 residents in maximising their benefits and income to a total of £4,157,130.
Last Christmas Eve a citizen visited the NAIS office looking for help and financial support, only to discover they could claim £22,000 in income maximisation.
The next phase of the council's Cost of Living Programme will focus on the root causes of poverty in Birmingham – low rates of unemployment, persistent earnings gap and wider social exclusion.
Cllr Nicky Brennan, Cabinet Member for Social Justice, Community Safety and Equalities, said: "While the council is facing significant challenges, our commitment to improving the lives of citizens and communities remains, especially as the cost of living crisis shows no signs of abating.
"Since Warm Welcomes were launched last year, it's been fantastic to see the network continue to grow across the city.
"We have been working with our partners in community, faith and voluntary sectors – as a result have seen a wide variety of spaces sign up to offer Warm Welcomes and the positive impact they are having in their local communities.
"For many, being in crisis can be lonely and isolating so this is not just about being warm, it's about local communities coming together to support one another throughout the year, not just during the winter months.
"Many organisations and groups offer this support all year round, but the tightening grip the cost of living has on so many of our citizens mean these places are needed more than ever."
An exhibition celebrating Birmingham's Warm Welcomes, is currently on display until March 2024 at Handsworth Library – which has around 250 visitors a day to access a range of activities and facilities.
Earlier today (9 November) the Lord Mayor of Birmingham, Cllr Chaman Lal, met some of the visitors and took part in a free crafting session.
Lord Mayor said: "The work being done across by the council and its partners to help citizens who are struggling with the cost of living is to be applauded.
"Birmingham's Warm Welcomes provide somewhere local people can come together – whether that's having someone to talk to or listen to your situation – wherever they are in our city.
"It was lovely to be able to spend time with some of the visitors to Handsworth Library and hear how we – together with a wide range of partners – are providing that much needed advice, support and sense of community."
Details of all the Warm Welcome spaces across the city can be found on the council's website – as can details of how organisations can register their space as a Warm Welcome: visit www.birmingham.gov.uk/livingsupport