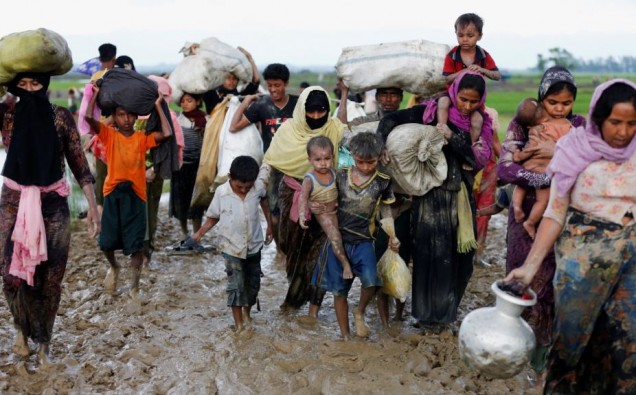 Bangladesh and Myanmar have now agreed on a time frame for the repatriation of thousands of Rohingya refugees who fled alleged persecution and violence against them from the military.
The Rohingya are often described as "the world's most persecuted minority" with more than 740,000 fleeing to neighbouring Bangladesh amid violence in 2016 and 2017. Most refugees are currently residing in makeshift camps in Bangladesh, but steady progress is reportedly being made to re-home them.  Bangladesh says it is aiming to repatriate families together, along with orphans and "children born out of unwarranted incidence" – meaning children conceived as a result of rape.
Myanmar has agreed to accept roughly 1,500 Rohingya each week, according to Bangladeshi authorities, adding that they aim to return all of them back to Myanmar within two years. However, there is some worry amongst aid agencies and refugees about what exactly this repatriation entails, and if it will be safe or forceful.
Sirajul Mostofa, a community leader in a camp in Cox's Bazaar, told the BBC: "We are still not clear about what agreement was signed. Our priority is, they have to grant us citizenship as Rohingyas. Secondly, they have to give back our lands. Thirdly, our security must be ensured internationally. Otherwise, this is not good for us.". These priorities are shared by many other refugees, who were not recognised as legal citizens by the government after the new citizenship laws of 1982 resulting in their rights to healthcare, education, marriage and religion being extremely restricted and possibly leading to their recent persecution by the military.
Both Bangladesh and Myanmar have promised that any repatriation will be voluntary, but any agreement regarding citizenship and safety for the Rohingya has not been made.
Myanmar has begun to rebuild after the violence that included the reported burnings of entire villages and countless killings, but the rebuild is reportedly going to benefit mainly non-Muslims. Also, two transit camps are being prepared with the first being able to accommodate 30,000 despite almost one million people fleeing Myanmar.
Furthermore, over 250 Rohingya villages are still piles of ash following being reportedly burned down by the military, who are accused of yet deny any abuse of human rights and violence. The military is also still in control of the northern Rakhine state.
Myanmar's foreign secretary U Myint Thu told BBC Burmese: "The repatriation process will commence on 23 January", that three more transit camps were "under construction", and there were plans to "build new villages".
Rakhine's state secretary, U Tin Maung Swe, told BBC Burmese: "The houses are not yet built. We plan to build them under a cash-for-work project. We will give them both money and jobs. The returnees will build their homes by themselves." A spokesperson from the UN High Commission for Refugees urged Myanmar to address the underlying causes of the refugee crisis and said that refugees should only return when they feel it is safe, which are the feelings echoed by the Rohingya people.