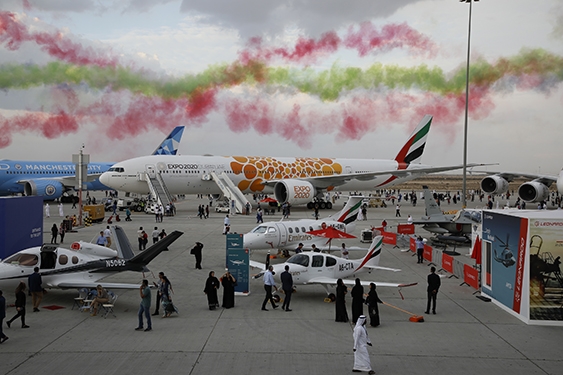 The year ends with a success of the world's most exciting airshow "Dubai Airshow 2021" which was held from 14th Nov – 18th Nov 2021 at Al Maktoum International Airport also known as Dubai World Central with 1200 exhibitors from 148 countries inaugurated by His Highness Sheikh Hamdan Bin Mohammed Bin Rashid Al Maktoum the crown prince of Dubai.
His Highness Sheikh Mohammed Bin Rashid Al Maktoum , Vice President & Prime Minister of UAE & Ruler of Dubai with Sheikh Hamdan bin Mohammed bin Rashid Al Maktoum crown prince of Dubai toured the Dubai Airshow exhibition area. They started their visit from Russia's fifth generation stealth fighter aircraft Sukhoi Su- 75 continued with their visit to Airbus pavilion, Boeing 777X9, Emirates new featured four class configured A380 . Dubai rulers along with top dignitaries attended the aerobatic displays.
There was a big display of stunning aircrafts of over 160 commercial, military and private jets, Bombardier Global 7500 and many more. But the main focus was on Boeing 777X who was the showstopper of this airshow. People were more excited to see B777X, which debuted its first international flight from it's motherland to the Dubai Airshow .
The airshow never gets completed without getting orders and this time many airline companies have made big investments in different aircrafts. The first 2 days total value of orders surpassed Dh200 billion which includes orders as well as service agreements between the airlines & aviation service companies around the globe. On the third day the total value of contracts jumped by Dh63 billion reaching Dh266 billion in the first three days. Till the end of this airshow the deals were crossed with more than Dh 286.5 billion worth of commercial & defense contracts. Comparing the graphs with the year 2019 this year was a gaining year .
There were many talks held across the key areas such as cargo, sustainability, activity to cut carbon emissions , air traffic management, adopting more fuel efficient aircraft & sustainable aviation fuels (SAF), presented by around 150 industry speakers. The meetings took place in air conditioned glass cabins on the runway , also there were guided tours, music performances, demonstrations, training sessions & different formations performed by aircrafts in the sky. Not only this Emirates introduced their retrofit program in which 52 Emirates A380s ; 53 Boeing 777s will be fitted with a new cabin class.
Dubai's flag carrier Emirates Airline invested $1 billion to meet the growing demand for airfreight. Sheikh Ahmed Bin Saeed Al Maktoum , Chairman & Chief Executive of Emirates Airline & Group said, " Today we are delighted to announce an investment of $1 billion to further expand our freighter capacity. This underscores our commitment to supporting our customers requirements and reflects our confidence in our future growth & status as one of the largest airline cargo carriers in the world." Further he added, " Emirates play a key role in making essential goods available to customers & consumers globally through the capacity available in our widebody fleet, the reach of our global network & the advanced infrastructure at our Dubai hub." An order for two B777 freighters with total value of $704 million      (Dh 2.6 billion) already placed.
To make this airshow successful was not an easy task as due to Covid19 pandemic outbreak strict safety measures were taken like wearing of masks, social distances, sanitization , thermal screening, not much crowd should be collected at one place were implemented.
This airshow brought together the high profile figures from the aerospace ,aviation & defense industry which got a good opportunity   for trading . Major General staff  Pilot Ishaq Saleh Al Balushi 
, executive director of the military committee for Dubai Airshow said, " This event highlights the strength of the UAE's aviation & aerospace sectors. This edition of the exhibition will provide a unique opportunity to learn about the latest developments in global aviation and aerospace."
This Airshow was the biggest success in the aviation industry of the year 2021 as the aviation industry is getting back on their wings to touch the sky and this Airshow has shown that now the Recovery is On..! And wings of planes are ready for future success.
By: Rida Khan ( Aviation Author)
( Instagram A/c : aviationauthor.ridakhan )